Product Description
Product Description
KASIN intermediate carrier chains operate in the most corrosive conditions brought about by continous operation in raw sugar juice.As a  consquence chains employ corrosion resistant materials . The swivel attachments allows for self allignment of the strands during operation compensating for anymismatch.
Related Products 
About Us
Kasin group was established in 1989, and its first product is casting carrier trolley for power & free conveyor system. In 1995, CHINAMFG purchased HangZhou Guoping Forging Factory (LYGP), a marketer of forging bolts & nuts to power & free line market in china. With this acquisition, CHINAMFG positioned itself as 1 of major parts suppliers of monorail and power & free conveyor system in china.
In 2
| | |
| --- | --- |
| Material: | Alloy |
| Structure: | Roller Chain |
| Surface Treatment: | Polishing |
| Feature: | Fire Resistant, Oil Resistant, Heat Resistant |
| Pitch: | 152.40mm |
| Roller Dia: | 63.50mm |
Samples:

US$ 100/Meter

1 Meter(Min.Order)

|
Request Sample
Customization:

Available

|

Customized Request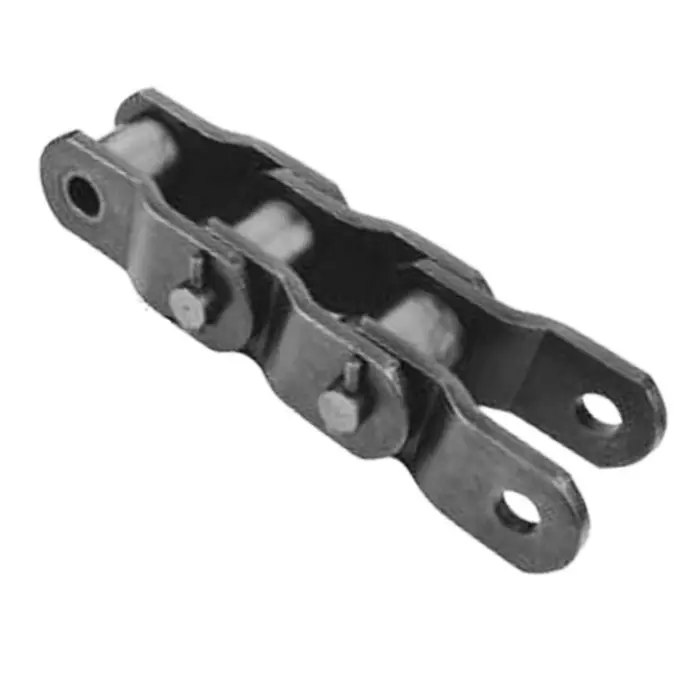 Can mill chains be used in the forestry and timber processing industry?
Yes, mill chains are commonly used in the forestry and timber processing industry for various applications. These chains are well-suited to handle the demanding and rugged conditions encountered in this sector. Here are the details of how mill chains are utilized in the forestry and timber processing industry:
1. Timber Handling: Mill chains are used in conveyor systems to transport timber and logs from one processing stage to another. They can handle heavy loads and provide reliable material transfer, making them essential for efficient timber handling operations.
2. Sawmills: In sawmills, mill chains are utilized in sawing equipment and lumber processing machinery. They help feed the logs and lumber through the cutting and processing equipment, ensuring a smooth and continuous operation.
3. Debarking Machines: Mill chains are employed in debarking machines, which remove the bark from the logs before further processing. These chains withstand the abrasive effects of the bark and debris, maintaining their performance and longevity.
4. Chipper Machines: Mill chains are used in chipper machines that convert wood waste and by-products into wood chips or biofuel. These chains efficiently convey the wood materials through the chipping process.
5. Conveying and Sorting: Mill chains are integral components of conveyor systems used for sorting and transporting timber products. They ensure smooth and controlled material flow, optimizing production efficiency.
6. High Strength and Durability: Mill chains are designed to withstand heavy loads, shock loads, and abrasive conditions. This high strength and durability make them suitable for the demanding environments of the forestry and timber processing industry.
7. Customization: Chains can be customized to fit specific equipment and applications, allowing for optimal performance and precise material handling.
8. Reduced Maintenance: Mill chains are engineered to require minimal maintenance, reducing downtime and increasing overall productivity in timber processing operations.
9. Corrosion Resistance: In outdoor environments and in contact with wood, moisture, and other elements, corrosion-resistant mill chains are available, providing extended service life and preventing chain deterioration.
10. Environmental Considerations: Timber processing industries often operate in natural habitats. Using mill chains with low environmental impact, such as those with reduced noise and vibration, can be beneficial for the surrounding ecosystem.
Overall, mill chains are essential components in the forestry and timber processing industry, facilitating the efficient and reliable handling, cutting, and processing of wood materials at various stages of production.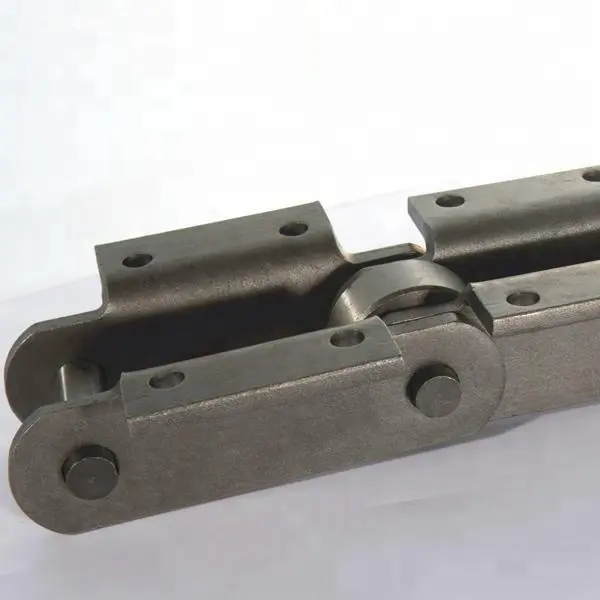 Can mill chains be used in the packaging and bottling industry?
Yes, mill chains can be used in the packaging and bottling industry for various material handling and conveying applications. The packaging and bottling industry involves the efficient and precise movement of products, containers, and packaging materials throughout the production process. Mill chains offer several advantages that make them suitable for these applications:
Precision and Accuracy: Mill chains provide accurate and reliable material transfer, ensuring that products are positioned correctly during the packaging and bottling process.
High Load Capacity: The industry often deals with heavy containers and products, and mill chains are designed to handle significant loads while maintaining their performance.
Smooth Operation: Mill chains offer low friction and reduced noise during operation, contributing to a smooth and efficient production line.
Automation Compatibility: Mill chains can be integrated into automated packaging and bottling systems, enabling seamless and precise material handling.
Flexible Configurations: Mill chains come in various sizes and configurations, allowing them to be tailored to the specific needs of the packaging and bottling processes.
Low Maintenance: With proper maintenance, mill chains can have a long service life and minimal downtime, supporting continuous production.
Corrosion Resistance: For applications where exposure to moisture or chemicals is a concern, corrosion-resistant mill chains can be used to ensure reliable performance.
In the packaging and bottling industry, mill chains are commonly used in conveyor systems, transfer lines, and material handling equipment. They are essential for maintaining the efficient flow of products from one stage of the packaging process to another. Additionally, the precision and reliability of mill chains contribute to consistent product quality and production output.
Overall, mill chains play a crucial role in optimizing the packaging and bottling processes, ensuring that products are handled efficiently and packaged accurately for distribution and consumption.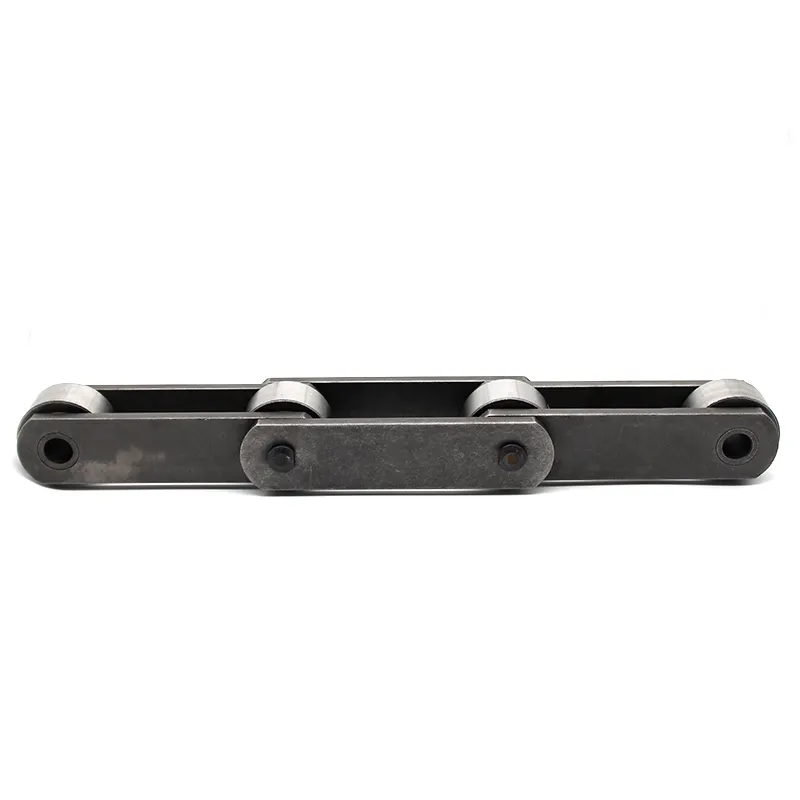 How do mill chains perform in dusty or dirty environments, such as in sawmills?
Mill chains are designed to perform well in dusty and dirty environments, making them suitable for use in sawmills and other similar applications. Here's how mill chains handle such conditions:
1. Dust and Debris Resistance: Mill chains are constructed with durable materials and precision manufacturing to minimize the impact of dust and debris. They have sealed joints and tight clearances between components, reducing the chances of contaminants entering the chain's interior. This design helps to maintain smooth operation and prevent premature wear and failure caused by abrasive particles.
2. Lubrication: Proper lubrication is essential for mill chains operating in dusty environments. Lubricants not only reduce friction and wear but also act as a barrier against dust and dirt, preventing them from settling on the chain's surfaces. Lubrication also helps to protect the chain from corrosion, which can be a concern in some dusty environments.
3. Regular Maintenance: Keeping the mill chains clean and well-maintained is crucial for their performance in dusty or dirty environments. Regular cleaning and inspection can help remove accumulated debris and identify any signs of wear or damage that may require attention. Chains should be periodically lubricated and adjusted to ensure optimal performance.
4. Chain Selection: Choosing the right type of mill chain for the specific conditions in a sawmill is essential. There are various chain designs and materials available, each suited to different environments. Chains with protective coatings or materials that resist dust and debris can be particularly beneficial in sawmill applications.
Overall, mill chains are designed to be reliable and robust, making them well-suited for demanding environments like sawmills. Proper maintenance and chain selection can further enhance their performance and longevity in these conditions.



editor by CX 2023-10-31