Product Description
Product Description
KASIN intermediate carrier chains operate in the most corrosive conditions brought about by continous operation in raw sugar juice.As a  consquence chains employ corrosion resistant materials . The swivel attachments allows for self allignment of the strands during operation compensating for anymismatch.
Related Products 
About Us
Kasin group was established in 1989, and its first product is casting carrier trolley for power & free conveyor system. In 1995, CHINAMFG purchased HangZhou Guoping Forging Factory (LYGP), a marketer of forging bolts & nuts to power & free line market in china. With this acquisition, CHINAMFG positioned itself as 1 of major parts suppliers of monorail and power & free conveyor system in china.
In 2
| | |
| --- | --- |
| Material: | Alloy |
| Structure: | Roller Chain |
| Surface Treatment: | Polishing |
| Feature: | Fire Resistant, Oil Resistant, Heat Resistant |
| Link Plate Height: | 50.80mm |
| Pin Length: | 97.10mm |
Samples:

US$ 100/Meter

1 Meter(Min.Order)

|
Request Sample
Customization:

Available

|

Customized Request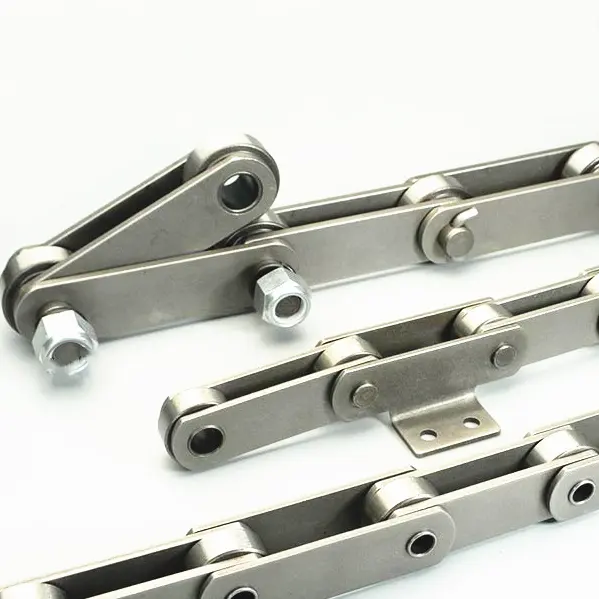 What are the limitations of using mill chains in certain industries or applications?
While mill chains are versatile and well-suited for many industrial applications, they do have some limitations that need to be considered when choosing the right chain for specific industries or applications:
1. Speed Limitations: Mill chains may have limitations on their maximum allowable speed. High-speed applications may require specialized chains designed to handle the increased forces and loads associated with faster operation.
2. Environmental Factors: Harsh operating environments, such as extremely high or low temperatures, corrosive chemicals, or abrasive materials, can affect the performance and longevity of mill chains. In such cases, specialized chains with appropriate coatings or materials may be required.
3. Noise and Vibration: Mill chains can generate noise and vibration during operation, which can be a concern in certain industries or applications where quieter and smoother operation is desired.
4. Misalignment Issues: Misalignment between sprockets can cause premature wear and failure of mill chains. Proper alignment and regular maintenance are essential to ensure optimal performance and longevity.
5. Weight Considerations: In applications where weight is a critical factor, the weight of the mill chains themselves may need to be taken into account, especially when dealing with large conveying systems.
6. Shock Loads: Sudden and heavy loads can put extra stress on mill chains, potentially leading to failure if not properly accounted for in the chain's design and selection.
7. Customization Challenges: In some cases, unique applications may require highly customized chain designs, which can be more challenging and costly to manufacture.
8. Water and Moisture: Excessive exposure to water and moisture can lead to rust and corrosion, reducing the chain's lifespan. In environments where water or moisture is prevalent, chains with appropriate coatings or materials should be used.
9. Chemical Resistance: Certain chemicals can be detrimental to the material properties of mill chains. When working with chemicals, it is essential to choose chains that offer the necessary chemical resistance.
Despite these limitations, proper selection, installation, and maintenance of mill chains can overcome many challenges and ensure their effective and reliable performance in various industries and applications.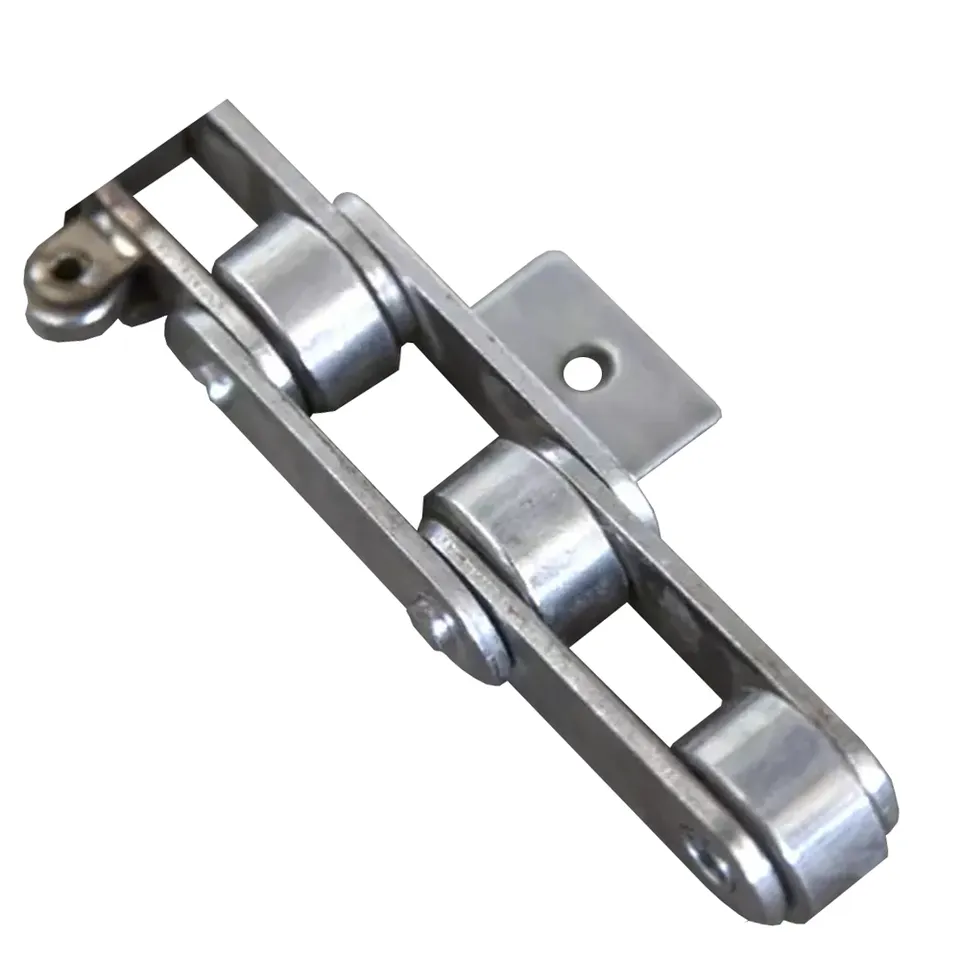 What are the benefits of using a double-pitch mill chain in specific setups?
A double-pitch mill chain offers several advantages in specific material handling setups. This type of chain has a longer pitch, which means that the distance between each roller is increased compared to standard chains. Here are the benefits of using a double-pitch mill chain:
Reduced Weight: Due to the longer pitch, a double-pitch mill chain typically has fewer components, making it lighter in weight. This can be beneficial in setups where weight reduction is desired.
Lower Cost: With fewer components and simpler construction, double-pitch mill chains can be more cost-effective compared to standard chains. This can be advantageous when working within budget constraints.
Smooth Operation: The longer pitch results in smoother and quieter operation of the chain, reducing noise and vibration during material handling processes.
Reduced Friction: The longer pitch also means that the chain encounters fewer sprocket teeth during each rotation, reducing friction and wear on both the chain and sprockets.
Extended Life: The reduced wear and lower friction contribute to an extended service life for the chain, minimizing the need for frequent replacements and maintenance.
Material Handling Flexibility: Double-pitch mill chains can handle a wide range of materials, making them suitable for various applications in different industries.
Conveying Larger Objects: The larger pitch allows double-pitch mill chains to accommodate larger and bulkier objects, making them suitable for setups where oversized materials need to be transported.
Convenient Maintenance: With longer intervals between replacements and reduced wear, double-pitch mill chains can offer more convenient maintenance schedules.
It's important to note that while double-pitch mill chains have their benefits, they are not suitable for all applications. The longer pitch may result in reduced strength and load capacity compared to standard chains, so it's essential to carefully consider the specific requirements of the material handling setup before selecting the chain type.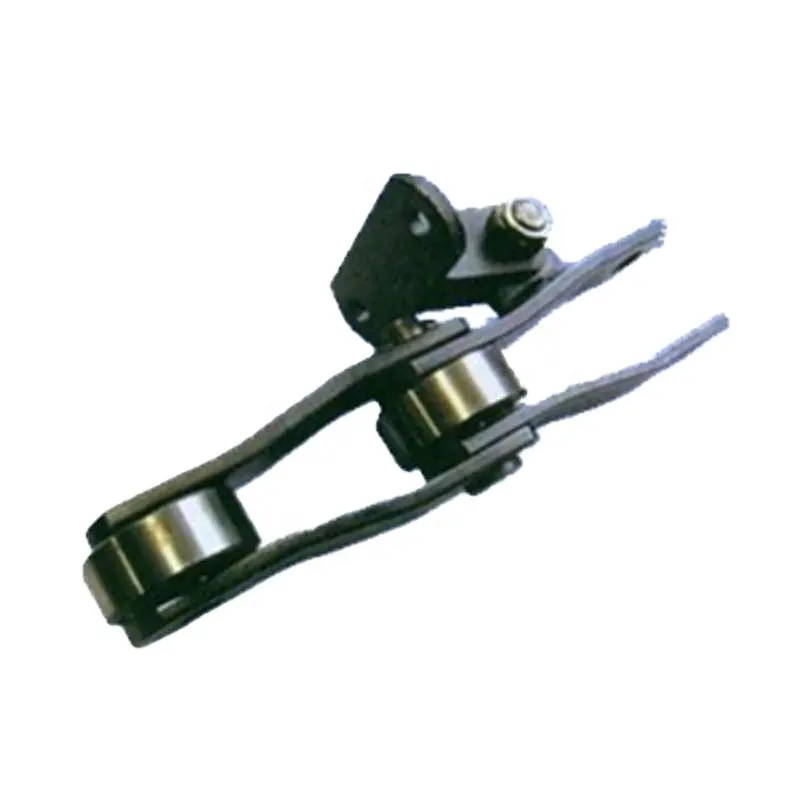 What are the maintenance requirements for mill chains to ensure optimal performance?
Proper maintenance is essential to ensure the optimal performance and longevity of mill chains. Regular inspections and care help identify and address potential issues early, preventing costly downtime and equipment failures. Here are the key maintenance requirements for mill chains:
1. Regular Inspections:
Perform routine visual inspections of the mill chains to check for signs of wear, damage, or misalignment. Look for elongation, excessive wear on pins and bushings, and any loose or broken components.
2. Lubrication:
Ensure proper lubrication of the mill chains. Lubrication reduces friction and wear, dissipates heat, and prevents corrosion. Follow the manufacturer's recommendations for lubrication intervals and use the appropriate lubricant for the specific operating conditions.
3. Cleaning:
Regularly clean the mill chains to remove dirt, debris, and accumulated particles. Clean chains function better and reduce the risk of abrasive wear.
4. Tension Adjustment:
Maintain the correct tension in the mill chains. Improper tension can lead to premature wear, elongation, and failure. Refer to the equipment's manual or consult with the manufacturer for the appropriate tensioning procedure.
5. Replacement of Worn Components:
Replace any worn, damaged, or broken components promptly. This includes pins, bushings, rollers, and any other parts that show signs of wear. Using worn-out components can lead to chain failure and damage to other parts of the machinery.
6. Environmental Considerations:
Take into account the operating environment and make any necessary adjustments to maintenance procedures. In harsh or corrosive environments, additional protective measures, such as coatings or seals, may be necessary.
7. Regular Training:
Ensure that maintenance personnel are well-trained in handling mill chains. Proper handling and installation can significantly impact the chain's performance and lifespan.
8. Record-Keeping:
Maintain detailed records of maintenance activities, including inspections, lubrication schedules, and component replacements. These records can help identify patterns, track chain performance, and plan future maintenance tasks.
By adhering to these maintenance requirements, operators can optimize the performance and service life of mill chains, reducing downtime and improving overall efficiency in material handling and industrial applications.



editor by CX 2023-10-24