Product Description
Product Description
1, Chain types: Roller Chain, Bucket elevator chain, bucket lifter chain, conveyor chain, transmission chain, motorcycle roller chain, silent chains, oil pump chains, weld steel drag chains, plastic chains etc;
2, Main materials: It is 40Mn. 40Cr, 45Mn alloy steel, SUS304, and POM Plastic for plates, 10#, 20#, 20CrMnMo, 30CrMnTi for pins and rollers;
3, Heat treatment: Carburizing, Austemper Stressing, nitro-caburizing harden etc;
4, Surface: Shot peening, black, blue or original;
5, Package way: Plastic bag+ carton box+ plywood case
Product Parameters
 
Bucket elevator chain, Cement Mill Chain
Conveyor type
Chain No.
Pitch
Roller diameter
Pin diameter
Pin length
Width between inner plates
Depth of chain plates
plate(sidebar) height
attachment height
Ultimate tensile strength
Installation dimension of attachment
P (mm)
d 1(mm)
d 2(mm)
b 2(mm)
b 1(mm)
T (mm)
h 1(mm)
h 2(mm)
kn
d4
L1
L2
NE15
NE15-101.6
101.6
26.5
11.5
70
27
6
35
35
128.1
10
50
50
NE30
NE30-152.4
152.4
35
15.5
90
36.5
8
50
50
245
15
75
70
NE50
NE50-152.4
152.4
35
15.5
90
36.5
8
50
110
245
15
75
70
NE100
NE100-200
200
42
19.1
120
51.8
10
60
125
375
15
75
70
NE150
NE150-200
200
48.5
22.23
120
57.8
10
60
125
375
18
100
80
NE200
NE200-250 (NE200/2L)
250
63.5
31.75
140
67.4
12
90
150
750
 
 
 
NE300
NE300-250
250
70
35
165
75
16
100
150
450
18
140
100
 
NP152.4
152.4
357
15.88
88
38
7.9
45
105
245
15
75
70
 
NE100/2L
200
44.5
19.05
114
53
10
60
125
400
 
 
 
 
NE150-B/2L
200
44.5
19.05
114
53
10
60
125
400
 
 
 
 
NE200/2L
250
63.5
31.75
140
67.4
12
90
150
750
 
 
 
 
P152.4-A/2L
152.4
36
17.33
85
36.5
8
50
105
160
 
 
 
 
NE150-A/2L
152.4
36
17.33
85
36.5
8
50
105
160
 
 
 
 
P152.4/3L
152.4
31.75
15.77
109
54
9.6
38.1
139.7
145
 
 
 
 
P125/2L
125
52
17
80
31
8
580
100
219.52
 
 
 
 
NP150
150
31.8
14.17
69
30
6.35
38.1
105
200
14
75
75
 
NP228.6
228.6
62
24.2
136
64
13
70
70
440
17
355.6
 
Our Advantages
Company Profile
We are a leading manufacturer of mechanical transmission spare parts, as well as several years 1 of reliable and trustworthy vendors for European, America, Iran market etc. Our main items are roller chains, conveyor chains, transmission chain, pulleys, V-belts, sprockets, spur gears, bevel gear, gear shafts, roller bearings, rollers, conveyor belts etc.At present, For South American, European, and Asian market, our superior products are fabricated according to your requirement and our quality meets ISO, ASME, DIN standard.
I hope we can do business together, and look CHINAMFG to hearing from you soon
| | |
| --- | --- |
| Material: | Alloy |
| Structure: | Roller Chain |
| Surface Treatment: | Carburizing and Quenching |
| Chain Size: | 150mm |
| Feature: | Heat Resistant |
| Chain Model: | Np150 |
Samples:

US$ 19.6/Piece

1 Piece(Min.Order)

|
Request Sample
Customization:

Available

|

Customized Request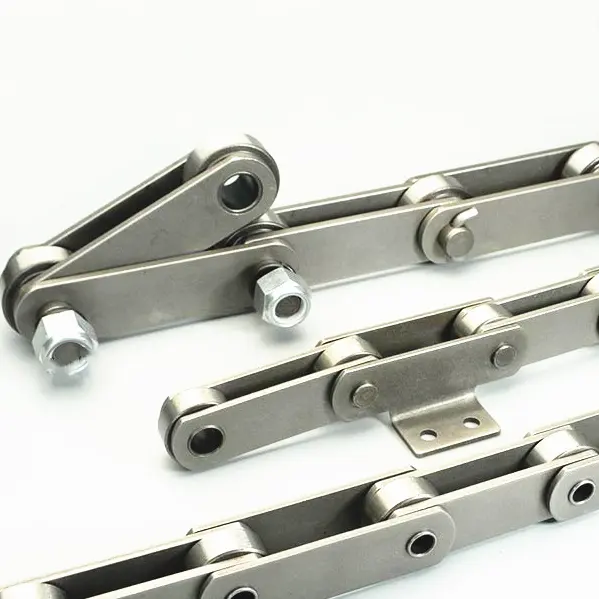 What are the limitations of using mill chains in certain industries or applications?
While mill chains are versatile and well-suited for many industrial applications, they do have some limitations that need to be considered when choosing the right chain for specific industries or applications:
1. Speed Limitations: Mill chains may have limitations on their maximum allowable speed. High-speed applications may require specialized chains designed to handle the increased forces and loads associated with faster operation.
2. Environmental Factors: Harsh operating environments, such as extremely high or low temperatures, corrosive chemicals, or abrasive materials, can affect the performance and longevity of mill chains. In such cases, specialized chains with appropriate coatings or materials may be required.
3. Noise and Vibration: Mill chains can generate noise and vibration during operation, which can be a concern in certain industries or applications where quieter and smoother operation is desired.
4. Misalignment Issues: Misalignment between sprockets can cause premature wear and failure of mill chains. Proper alignment and regular maintenance are essential to ensure optimal performance and longevity.
5. Weight Considerations: In applications where weight is a critical factor, the weight of the mill chains themselves may need to be taken into account, especially when dealing with large conveying systems.
6. Shock Loads: Sudden and heavy loads can put extra stress on mill chains, potentially leading to failure if not properly accounted for in the chain's design and selection.
7. Customization Challenges: In some cases, unique applications may require highly customized chain designs, which can be more challenging and costly to manufacture.
8. Water and Moisture: Excessive exposure to water and moisture can lead to rust and corrosion, reducing the chain's lifespan. In environments where water or moisture is prevalent, chains with appropriate coatings or materials should be used.
9. Chemical Resistance: Certain chemicals can be detrimental to the material properties of mill chains. When working with chemicals, it is essential to choose chains that offer the necessary chemical resistance.
Despite these limitations, proper selection, installation, and maintenance of mill chains can overcome many challenges and ensure their effective and reliable performance in various industries and applications.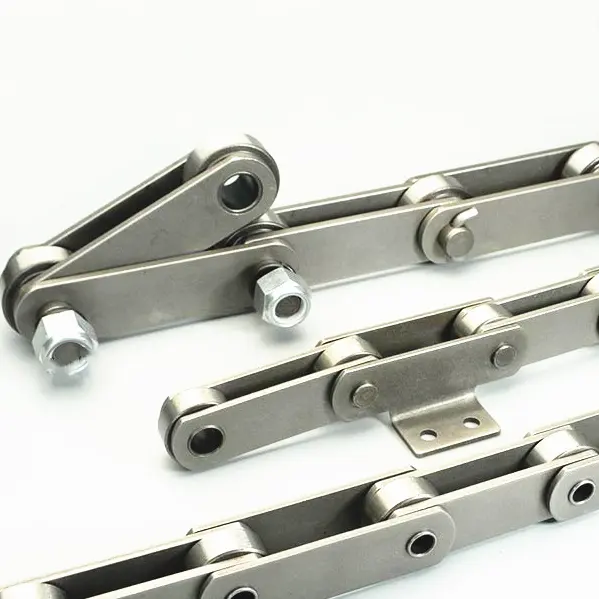 What are the factors to consider when selecting a mill chain for specific material handling needs?
When choosing a mill chain for specific material handling needs, several factors should be taken into consideration to ensure optimal performance and efficiency:
Load Capacity: Determine the maximum load that the mill chain will need to handle in the material handling application. Select a chain that has a sufficient load capacity to support the weight of the conveyed materials or products.
Speed: Consider the speed at which the chain will need to operate. Choose a mill chain that can handle the required speed without compromising on performance or safety.
Environment: Assess the operating environment for the mill chain. Consider factors such as temperature, humidity, presence of chemicals, and potential exposure to corrosive substances. Select a chain material and coating that can withstand the specific environmental conditions.
Corrosion Resistance: If the mill chain will be used in a corrosive environment, opt for a chain with corrosion-resistant materials or coatings to prevent premature wear and damage.
Alignment and Tolerance: Ensure that the chain's alignment and tolerance are suitable for the conveyor system or material handling equipment. Proper alignment will reduce wear and increase the chain's longevity.
Maintenance: Consider the maintenance requirements of the mill chain. Some chains may require more frequent maintenance, while others are designed for longer intervals between servicing.
Chain Type: Evaluate the different types of mill chains available, such as standard roller chains, double-pitch chains, attachment chains, or specialty chains. Choose the one that best suits the material handling application.
Compatibility: Ensure that the selected mill chain is compatible with the sprockets, attachments, and other components of the material handling system.
Cost: Compare the cost of different mill chain options while considering the overall value and performance they offer for the specific material handling needs.
By carefully considering these factors, you can select the most appropriate mill chain for the material handling application, ensuring smooth and reliable operation, reduced downtime, and extended chain life.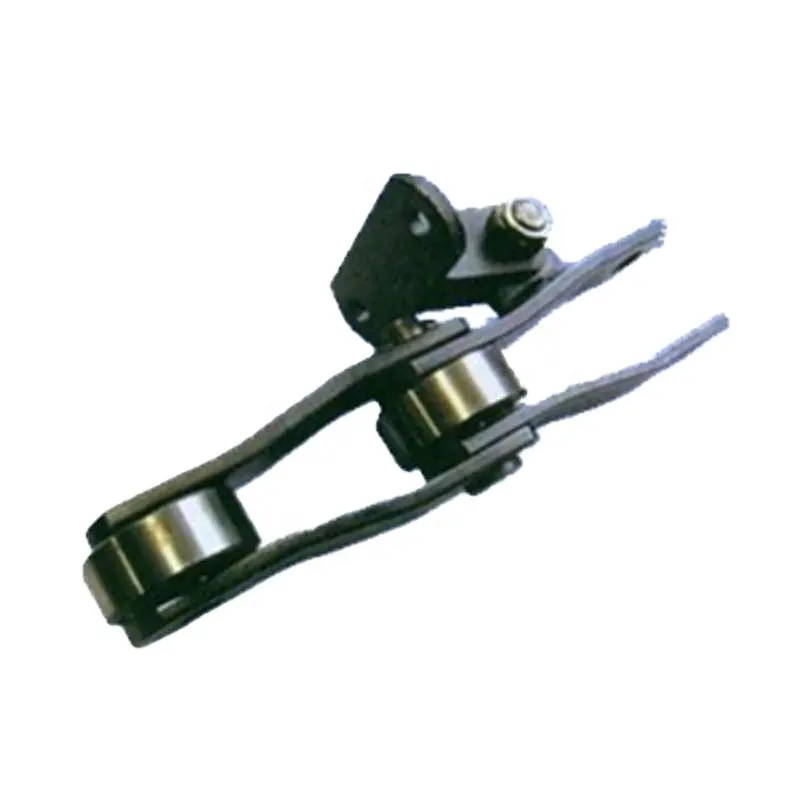 What are the maintenance requirements for mill chains to ensure optimal performance?
Proper maintenance is essential to ensure the optimal performance and longevity of mill chains. Regular inspections and care help identify and address potential issues early, preventing costly downtime and equipment failures. Here are the key maintenance requirements for mill chains:
1. Regular Inspections:
Perform routine visual inspections of the mill chains to check for signs of wear, damage, or misalignment. Look for elongation, excessive wear on pins and bushings, and any loose or broken components.
2. Lubrication:
Ensure proper lubrication of the mill chains. Lubrication reduces friction and wear, dissipates heat, and prevents corrosion. Follow the manufacturer's recommendations for lubrication intervals and use the appropriate lubricant for the specific operating conditions.
3. Cleaning:
Regularly clean the mill chains to remove dirt, debris, and accumulated particles. Clean chains function better and reduce the risk of abrasive wear.
4. Tension Adjustment:
Maintain the correct tension in the mill chains. Improper tension can lead to premature wear, elongation, and failure. Refer to the equipment's manual or consult with the manufacturer for the appropriate tensioning procedure.
5. Replacement of Worn Components:
Replace any worn, damaged, or broken components promptly. This includes pins, bushings, rollers, and any other parts that show signs of wear. Using worn-out components can lead to chain failure and damage to other parts of the machinery.
6. Environmental Considerations:
Take into account the operating environment and make any necessary adjustments to maintenance procedures. In harsh or corrosive environments, additional protective measures, such as coatings or seals, may be necessary.
7. Regular Training:
Ensure that maintenance personnel are well-trained in handling mill chains. Proper handling and installation can significantly impact the chain's performance and lifespan.
8. Record-Keeping:
Maintain detailed records of maintenance activities, including inspections, lubrication schedules, and component replacements. These records can help identify patterns, track chain performance, and plan future maintenance tasks.
By adhering to these maintenance requirements, operators can optimize the performance and service life of mill chains, reducing downtime and improving overall efficiency in material handling and industrial applications.



editor by CX 2023-11-06