Product Description
CHINAMFG rollers enhance rotation on the bushing while reducing impact loads on the sprocket tooth during operation.
All components are heat treated to achieve maximum strength.
Pre-loaded during the manufacturing process to minimize initial elongation.
Hot dipped lubrication ensures 100% lubrication of all chain components to extend wear life and reduce maintenance costs.
CHAIN
NO.
PITCH
BUSH
WIDTH
ROLLER
DIA
PIN
PLATE
MIN.
TENSILE
STRENGTH
MAX.
TENSILE
STRENGTH
WEIGHT
d
L1
L2
H
t/T
mm
mm
mm
mm
mm
mm
mm
mm
KN/min
KN/min
kg/m
US101.6
101.60
31.80
57.15
15.88
34.40
38.40
38.10
6.40
72.3
8.20
11.67
P101.6-R47
101.60
30.00
47.00
15.88
41.00
45.00
41.00
10.00
242.0
19.40
17.98
US127
127.00
38.40
69.85
19.00
45.10
51.40
50.80
9.60
180.0
20.30
19.22
P152.4-R66.7
152.40
30.00
66.70
26.92
35.50
41.50
50.80
8.00
167.0
13.40
16.11
C9060
152.40
37.70
69.85
18.90
45.00
49.30
50.80
9.50
250.0
28.20
17.20
C 0571 1
152.40
37.70
69.85
18.90
44.90
50.30
57.20
9.50
377.9
28.20
18.74
C 0571 3
152.40
38.00
76.20
23.83
47.10
54.90
61.90
10.30
635.0
36.10
22.27
1796
152.40
37.80
69.85
76.20
73.00
22.23
43.90
53.20
57.20
9.50
444.5
33.30
18.50
19.50
19.20
| | |
| --- | --- |
| Usage: | Transmission Chain, Conveyor Chain, Dedicated Special Chain, Roller Chain |
| Material: | Alloy/Carbon Steel |
| Surface Treatment: | Polishing |
| Feature: | Heat Resistant |
| Chain Size: | 4"*6" |
| Structure: | Roller Chain |
Samples:

US$ 10/Meter

1 Meter(Min.Order)

|
Request Sample
Customization:

Available

|

Customized Request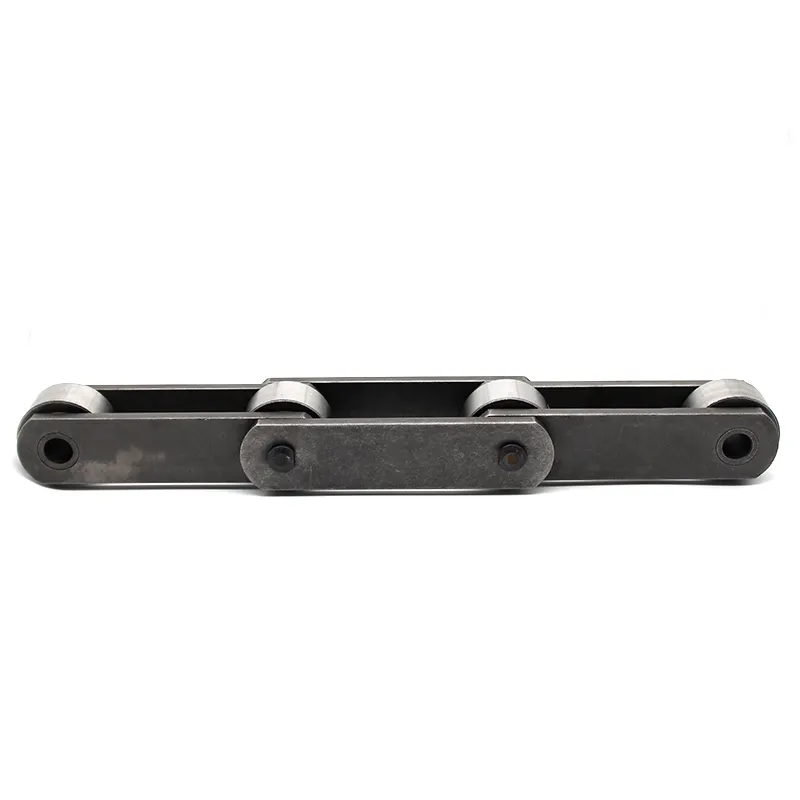 What are the environmental considerations when using mill chains?
When using mill chains in industrial applications, several environmental considerations should be taken into account. These factors are important for sustainable and eco-friendly operations. Here are the key environmental considerations:
1. Lubrication: Proper lubrication of mill chains is essential for reducing friction and wear, which can lead to chain failure and increased energy consumption. Using environmentally friendly lubricants can minimize the impact on the environment.
2. Noise and Vibration: Excessive noise and vibration from chains can negatively impact the surrounding environment and workers' well-being. Choosing chains with low noise and vibration characteristics can help maintain a more pleasant and safe working environment.
3. Material Selection: Opting for chains made from materials with low environmental impact, such as recycled or sustainable materials, can contribute to eco-friendliness.
4. Chain Recycling and Disposal: Implementing proper chain recycling and disposal practices ensures that end-of-life chains are managed in an environmentally responsible manner.
5. Chain Maintenance: Regular maintenance of mill chains is crucial to prevent premature wear and reduce the likelihood of environmental contamination from chain breakages.
6. Energy Efficiency: Selecting energy-efficient chain designs and maintaining proper tension can lead to reduced energy consumption and lower greenhouse gas emissions.
7. Preventing Chain Contamination: Keeping chains clean and free from debris can prevent potential environmental pollution when used in applications handling sensitive materials.
8. Compliance with Regulations: Adhering to environmental regulations and standards is essential to minimize the impact of chain usage on the environment.
9. Environmental Certification: Some chain manufacturers offer products with environmental certifications or comply with international standards for sustainability, providing assurance of eco-friendly practices.
10. Application-Specific Considerations: Different industries and applications may have unique environmental challenges. Considering these specific factors when selecting and using mill chains is vital.
By taking these environmental considerations into account, industries can work towards reducing their ecological footprint and contributing to more sustainable practices in their chain usage.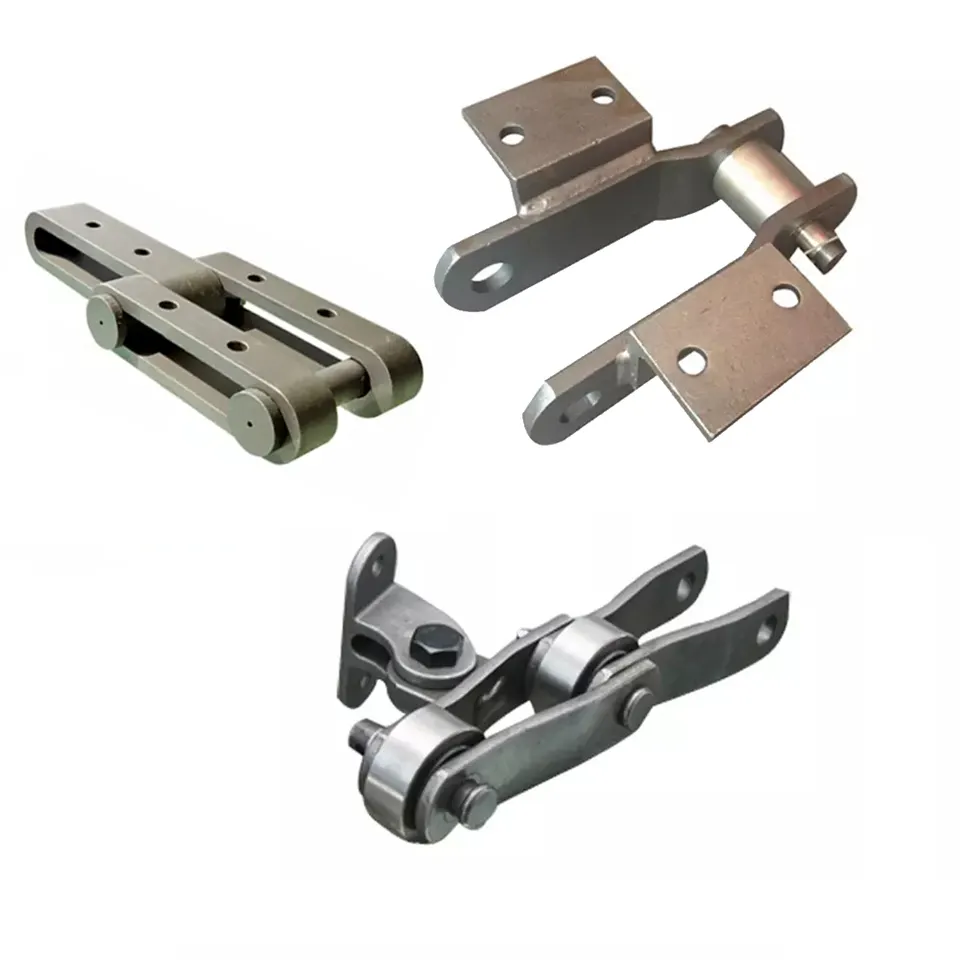 What are the safety considerations when using mill chains in industrial settings?
Safety is of utmost importance when using mill chains in industrial settings. Proper maintenance, installation, and operation are crucial to ensure the safe and efficient functioning of the equipment. Here are some key safety considerations:
1. Training and Education: Workers operating and maintaining the mill chains should receive proper training and education on equipment handling, safety protocols, and emergency procedures.
2. Personal Protective Equipment (PPE): Operators and maintenance personnel should wear appropriate PPE, such as safety gloves, safety goggles, and protective clothing, to prevent injuries during handling and maintenance.
3. Regular Inspections: Conduct routine inspections of the mill chains to identify any signs of wear, damage, or malfunction. Address any issues promptly to avoid potential accidents.
4. Lubrication: Proper and regular lubrication of the mill chain is essential to reduce friction and wear. However, ensure that lubricants used are compatible with the application and do not pose any health hazards.
5. Load Capacity: Do not exceed the recommended load capacity of the mill chain. Overloading can lead to premature failure and accidents.
6. Guarding: Install appropriate guards and safety devices to prevent accidental contact with moving parts of the mill chain and reduce the risk of entanglement.
7. Emergency Stop Devices: Equip the mill chain system with emergency stop devices that allow workers to quickly halt the operation in case of emergencies or potential hazards.
8. Handling Hazardous Materials: If the mill chain is used in handling hazardous materials, ensure that proper containment and safety measures are in place to prevent spills and exposures.
9. Environmental Considerations: Be mindful of the environmental impact of using mill chains. Follow proper waste disposal procedures and consider eco-friendly alternatives when applicable.
10. Compliance with Regulations: Ensure that the mill chains and associated equipment comply with relevant safety regulations and standards set by regulatory authorities.
By adhering to these safety considerations and maintaining a proactive safety culture, the risk of accidents and injuries in industrial settings can be significantly reduced, creating a safer and more productive work environment.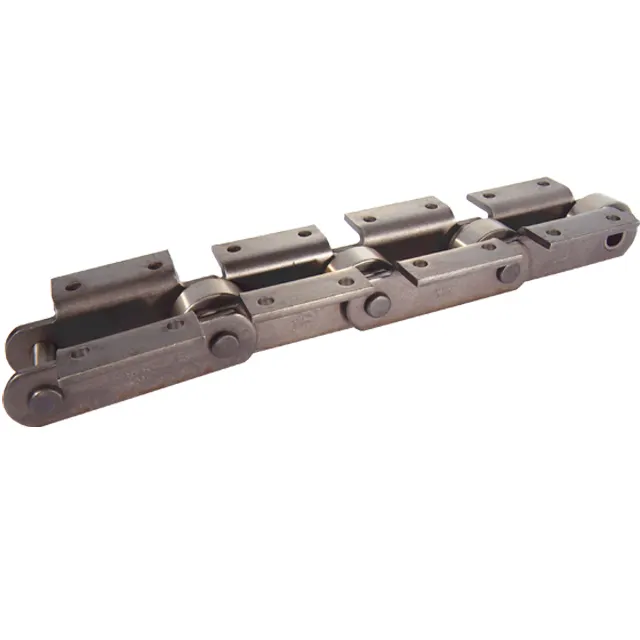 What are the common industries that utilize mill chains for material handling?
Mill chains find extensive use in various industries for material handling applications due to their durability, strength, and versatility. Some of the common industries that utilize mill chains include:
1. Steel Mills: Mill chains are extensively used in steel mills for handling raw materials, such as iron ore, coal, and limestone. They are also employed in conveying hot and heavy steel products through various stages of the manufacturing process.
2. Cement Plants: In cement manufacturing, mill chains are used for transporting and handling raw materials like limestone, gypsum, and clinker. They are also used in the movement of finished cement products.
3. Paper and Pulp Industry: Mill chains play a vital role in the paper and pulp industry by conveying wood chips, paper rolls, and other raw materials throughout the production process.
4. Mining: In the mining industry, mill chains are used for the extraction and transportation of minerals and ores. They can handle heavy loads and harsh operating conditions commonly encountered in mining operations.
5. Automotive: Mill chains are employed in the automotive industry for handling various components and materials during manufacturing and assembly processes.
6. Agriculture: Mill chains are used in the agricultural sector for conveying grains, seeds, and other agricultural products in storage facilities, grain elevators, and processing plants.
7. Recycling: In recycling plants, mill chains are used to move and separate recyclable materials, such as metal scrap, paper, and plastics.
8. Foundries: Foundries utilize mill chains for the handling and transportation of molten metal and sand molds in the casting process.
9. Food Processing: The food processing industry relies on mill chains for handling and conveying food products during various stages of processing and packaging.
10. Construction: Mill chains are used in construction applications for transporting construction materials like sand, gravel, and concrete blocks on construction sites.
These industries and many others benefit from the reliable performance and robustness of mill chains in their material handling operations, ensuring efficient and smooth movement of materials throughout their processes.



editor by CX 2023-11-01