Product Description
Indsutrial Welded Steel Mill Chain Link (WH2/15862544283
Fax:
tran-auto
Chain No
Pitch

(mm)

Outside Barrel Dia

(mm)

Pin Dia

(mm)

Side Bar Height

(mm)

Approx Tooth Face at pitch line    
(mm)
Length of Bearing

(mm)

Plate Thickness

(mm)

Ultimate tensile strength

(KN)

Weight Approx                              

(Kg/FT)

WH200
155.575
48.26
31.75
63.5
69.85
117.48
15.88
846
10
| | |
| --- | --- |
| Material: | Carbon Steel |
| Structure: | Welded Chain |
| Surface Treatment: | Polishing |
| Chain Size: | All |
| Feature: | Heat Resistant |
| Pitch: | 155.575mm |
Customization:

Available

|

Customized Request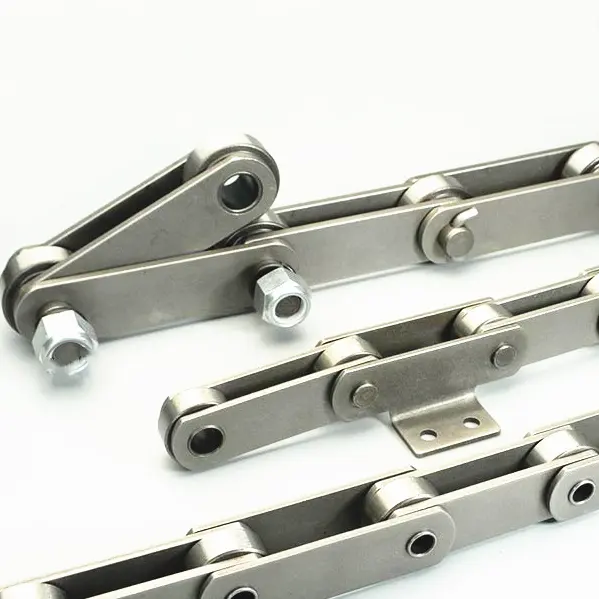 What are the limitations of using mill chains in certain industries or applications?
While mill chains are versatile and well-suited for many industrial applications, they do have some limitations that need to be considered when choosing the right chain for specific industries or applications:
1. Speed Limitations: Mill chains may have limitations on their maximum allowable speed. High-speed applications may require specialized chains designed to handle the increased forces and loads associated with faster operation.
2. Environmental Factors: Harsh operating environments, such as extremely high or low temperatures, corrosive chemicals, or abrasive materials, can affect the performance and longevity of mill chains. In such cases, specialized chains with appropriate coatings or materials may be required.
3. Noise and Vibration: Mill chains can generate noise and vibration during operation, which can be a concern in certain industries or applications where quieter and smoother operation is desired.
4. Misalignment Issues: Misalignment between sprockets can cause premature wear and failure of mill chains. Proper alignment and regular maintenance are essential to ensure optimal performance and longevity.
5. Weight Considerations: In applications where weight is a critical factor, the weight of the mill chains themselves may need to be taken into account, especially when dealing with large conveying systems.
6. Shock Loads: Sudden and heavy loads can put extra stress on mill chains, potentially leading to failure if not properly accounted for in the chain's design and selection.
7. Customization Challenges: In some cases, unique applications may require highly customized chain designs, which can be more challenging and costly to manufacture.
8. Water and Moisture: Excessive exposure to water and moisture can lead to rust and corrosion, reducing the chain's lifespan. In environments where water or moisture is prevalent, chains with appropriate coatings or materials should be used.
9. Chemical Resistance: Certain chemicals can be detrimental to the material properties of mill chains. When working with chemicals, it is essential to choose chains that offer the necessary chemical resistance.
Despite these limitations, proper selection, installation, and maintenance of mill chains can overcome many challenges and ensure their effective and reliable performance in various industries and applications.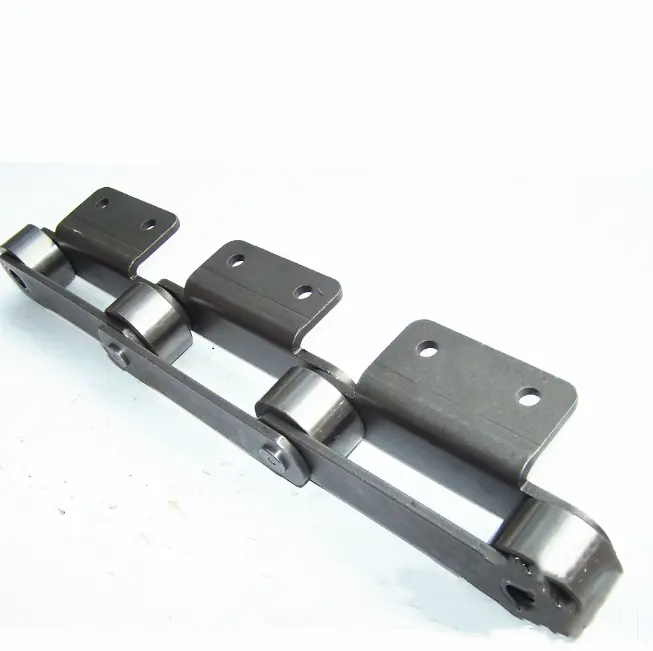 Can mill chains be used in the plastics and rubber processing industry?
Yes, mill chains can be used in the plastics and rubber processing industry for various material handling applications. The plastics and rubber processing industry involves the production of a wide range of products made from plastic and rubber materials, such as bottles, containers, pipes, hoses, tires, and more. Mill chains are well-suited for handling and conveying these materials during different stages of the manufacturing process.
The plastics and rubber processing industry often requires heavy-duty and reliable material handling systems to move, transport, and process raw materials and finished products. Mill chains are capable of handling heavy loads and can withstand the rigorous demands of continuous operation in such industrial settings.
Key applications of mill chains in the plastics and rubber processing industry include:
Material Conveying: Mill chains are used to transport raw materials, additives, and finished products from one process to another along the production line.
Mixing and Blending: In the rubber processing sector, mill chains can be used in the mixing and blending process to combine different ingredients and create rubber compounds.
Extrusion: Mill chains are employed in extrusion processes where plastic or rubber materials are forced through a die to create various shapes and forms.
Molding and Forming: For plastics, mill chains are utilized in injection molding and other forming processes to produce products of specific shapes and sizes.
Curing and Cooling: Mill chains are also involved in the curing and cooling stages of rubber processing to achieve the desired properties and final product characteristics.
The selection of the appropriate mill chain for the plastics and rubber processing industry depends on factors such as the type of material being handled, the weight and size of the products, the operating environment, and the specific requirements of the material handling process. Properly chosen and well-maintained mill chains contribute to the efficiency, reliability, and productivity of the plastics and rubber processing industry.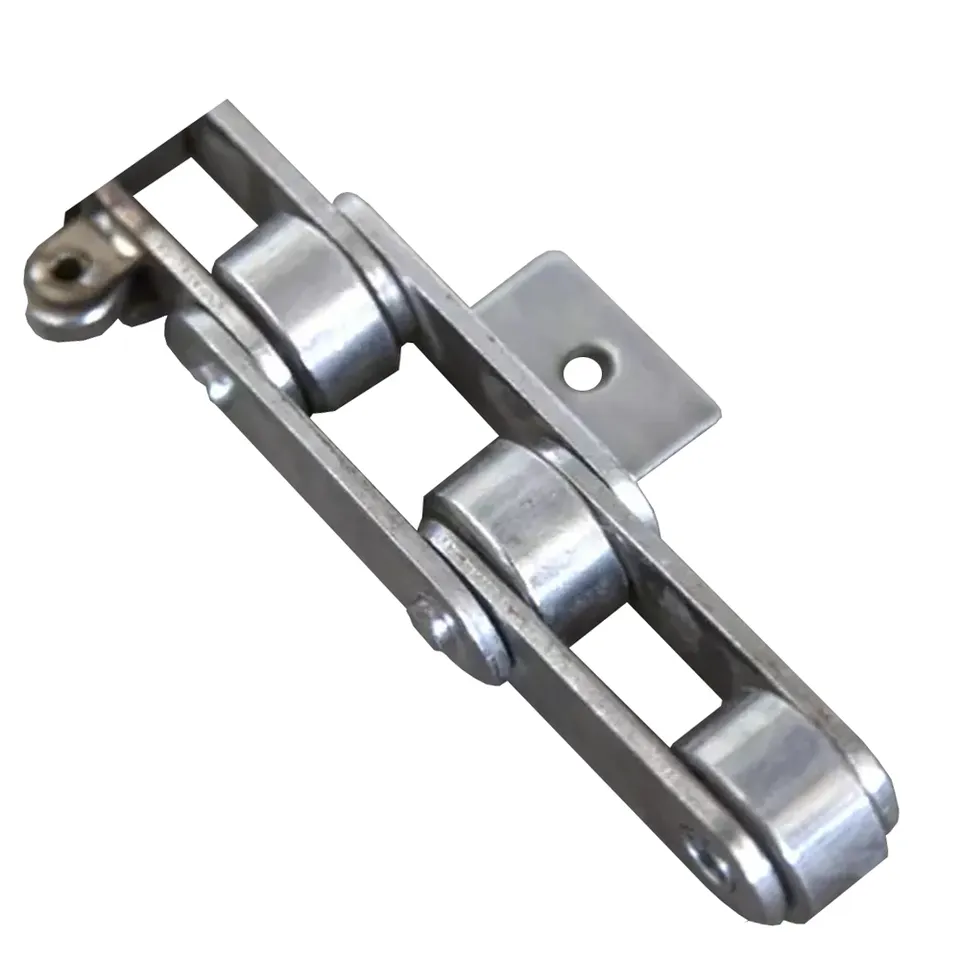 What are the noise and vibration characteristics of mill chains during operation?
During operation, mill chains may exhibit certain noise and vibration characteristics, which can vary depending on the specific design, condition, and application. Here are some key points to consider:
Noise Characteristics:
1. Rattling or Clanking: In some cases, mill chains may produce a rattling or clanking noise during operation. This noise can be caused by the impact of chain links or attachments as they move along the sprockets or other components.
2. Continuous Hum: Mill chains in well-maintained systems may produce a continuous humming sound, especially in higher-speed applications. The humming noise is often a result of the smooth and consistent movement of the chain links.
Vibration Characteristics:
1. Periodic Vibration: Mill chains can generate periodic vibrations as they pass over sprockets and other components. The vibration frequency is typically related to the chain's speed and the number of teeth on the sprockets.
2. Smooth Operation: Well-lubricated and properly tensioned mill chains usually exhibit smoother operation with minimal vibration. Proper maintenance is essential to reduce excessive vibration and noise levels.
Noise and Vibration Management:
Excessive noise and vibration in mill chain systems can lead to increased wear, fatigue, and reduced efficiency. To manage noise and vibration:
1. Regular Maintenance: Ensure regular inspection, lubrication, and tensioning of the mill chains to minimize wear and reduce noise levels.
2. Chain Condition: Replace any worn or damaged chain links, sprockets, or attachments to maintain smooth and quiet operation.
3. Proper Tension: Maintaining the correct chain tension is crucial to prevent excessive vibration and noise. Too much tension can lead to increased stress, while too little tension may cause chain slippage and impact noise.
4. Quality and Design: Select high-quality mill chains designed for the specific application. Chains with precision engineering and anti-vibration features can help reduce noise and vibration levels.
Overall, managing noise and vibration in mill chain systems is essential for optimizing performance, reducing maintenance costs, and ensuring a safer working environment.



editor by CX 2023-10-18