Product Description
Welded Steel Mill and Drag Chains
W Series Welded Steel Mill Chain 
WH Series Welded Steel Mill Chain 
WD Series Welded Steel Drag Chain
Welded steel drag chain is built according to ISO 6971 and ANSI B29.18M. Products provide efficient and economical service when used in chip and sawdust conveyors, and like applications. Reverse barrel is available. Attachments includes C1, C3, C4, RR and Wing.
With their large wide pushing area, welded steel drag chains provide sizeable carrying capacity when operated at moderate speeds. They can be run in the same troughs and on the same sprockets as their cast chain counterparts.
Welded Steel Mill Chain includes offset sidebar welded steel mill chain(or cranked link welded steel mill chain), straight sidebar welded steel mill chain and welded stainless steel mill chain as per ISO 6972 and ANSI B29.16M. These versatile welded steel chains are used throughout the forest products industry and paper processing industries as economical alternative for comparable cast chains. Manufactured with the most advanced techniques, equipment and high quality steels, these chains offer improved resistance to wear and shock loads for a broad range of applications of conveying, transmission and elevations. A variety of attachments are also available for different conveyor and elevator applications: A1, A2, A22, F2, F4, H1, H2, K1, K2, R1, RR1, R2, R22, W1.
Welded steel mill chains are recommended for most conveying, driving, and elevating applications where a high-strength steel rollerless chain is required. These chains will operate on the same sprockets as their cast chain counterparts.
The direction of travel for welded Mill Chain is determined by the application. If used in a conveyor application, the direction should be with the open end first. If used as a drive chain, the closed end, or the end with the barrel, should be first.
Chain No. W78/W82/W106/W110/W111/W124/W124H/W132/W134/W150/W155/W157/
W182/W784/
WH78/WH82/WH106/WH110/WH111/WH124/WH124H/WH132/WH150/WH155/WH157/WH784/
W Series welded steel mill and drag chains
We 24 hours service for you!
| | |
| --- | --- |
| Standard or Nonstandard: | Standard |
| Application: | Textile Machinery, Garment Machinery, Conveyer Equipment, Packaging Machinery, Electric Cars, Motorcycle, Food Machinery, Marine, Mining Equipment, Agricultural Machinery, Car |
| Surface Treatment: | Baking Paint |
| Structure: | Welded Chain |
| Material: | Cast Iron |
| Type: | Cranked Link Chain |
Samples:

US$ 15.71/Meter

1 Meter(Min.Order)

|
Request Sample
Customization:

Available

|

Customized Request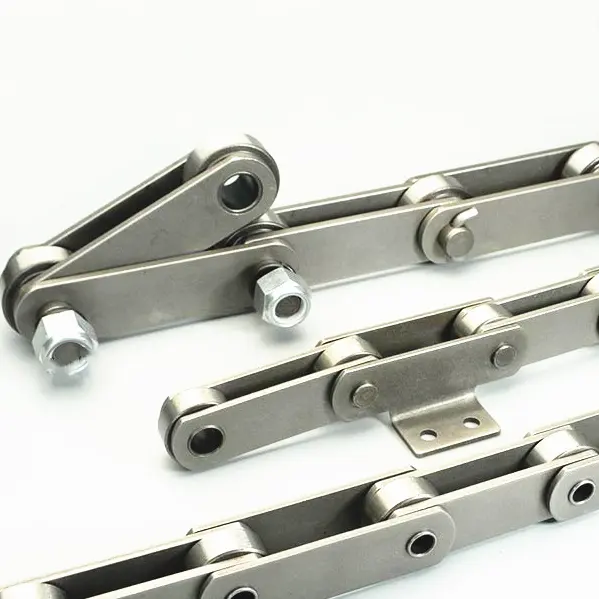 What are the limitations of using mill chains in certain industries or applications?
While mill chains are versatile and well-suited for many industrial applications, they do have some limitations that need to be considered when choosing the right chain for specific industries or applications:
1. Speed Limitations: Mill chains may have limitations on their maximum allowable speed. High-speed applications may require specialized chains designed to handle the increased forces and loads associated with faster operation.
2. Environmental Factors: Harsh operating environments, such as extremely high or low temperatures, corrosive chemicals, or abrasive materials, can affect the performance and longevity of mill chains. In such cases, specialized chains with appropriate coatings or materials may be required.
3. Noise and Vibration: Mill chains can generate noise and vibration during operation, which can be a concern in certain industries or applications where quieter and smoother operation is desired.
4. Misalignment Issues: Misalignment between sprockets can cause premature wear and failure of mill chains. Proper alignment and regular maintenance are essential to ensure optimal performance and longevity.
5. Weight Considerations: In applications where weight is a critical factor, the weight of the mill chains themselves may need to be taken into account, especially when dealing with large conveying systems.
6. Shock Loads: Sudden and heavy loads can put extra stress on mill chains, potentially leading to failure if not properly accounted for in the chain's design and selection.
7. Customization Challenges: In some cases, unique applications may require highly customized chain designs, which can be more challenging and costly to manufacture.
8. Water and Moisture: Excessive exposure to water and moisture can lead to rust and corrosion, reducing the chain's lifespan. In environments where water or moisture is prevalent, chains with appropriate coatings or materials should be used.
9. Chemical Resistance: Certain chemicals can be detrimental to the material properties of mill chains. When working with chemicals, it is essential to choose chains that offer the necessary chemical resistance.
Despite these limitations, proper selection, installation, and maintenance of mill chains can overcome many challenges and ensure their effective and reliable performance in various industries and applications.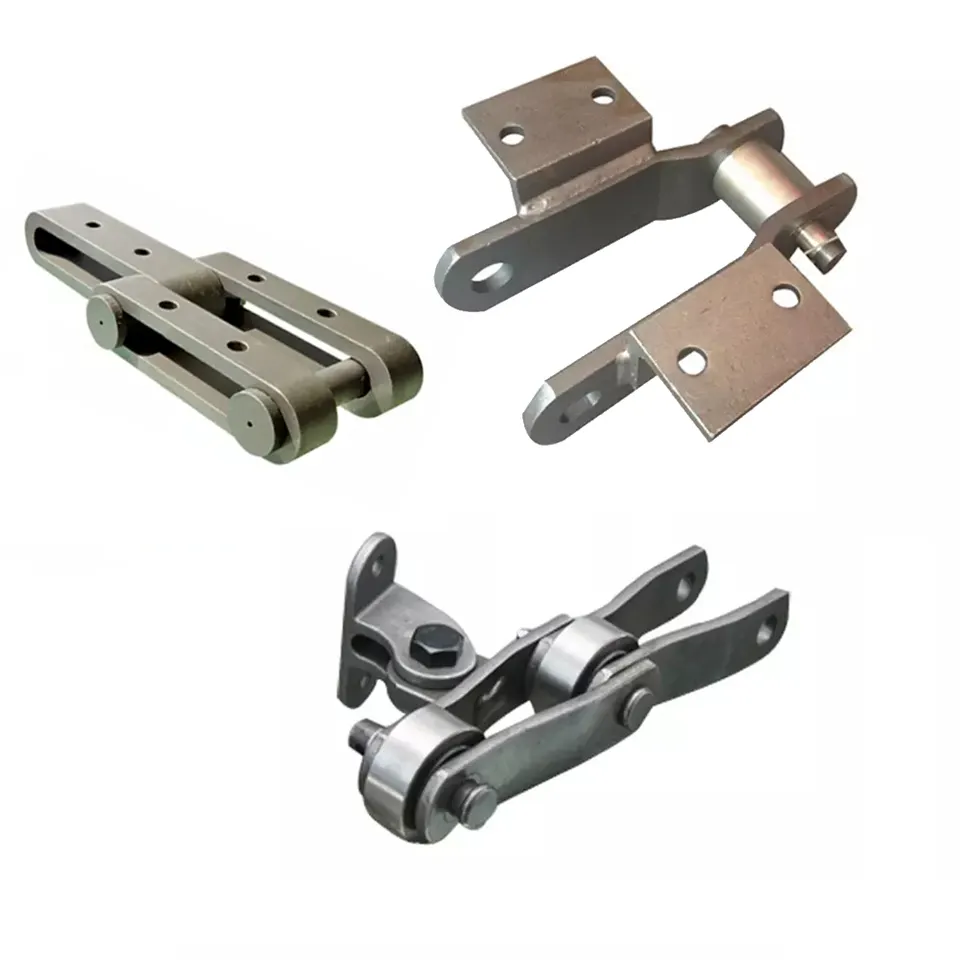 What are the safety considerations when using mill chains in industrial settings?
Safety is of utmost importance when using mill chains in industrial settings. Proper maintenance, installation, and operation are crucial to ensure the safe and efficient functioning of the equipment. Here are some key safety considerations:
1. Training and Education: Workers operating and maintaining the mill chains should receive proper training and education on equipment handling, safety protocols, and emergency procedures.
2. Personal Protective Equipment (PPE): Operators and maintenance personnel should wear appropriate PPE, such as safety gloves, safety goggles, and protective clothing, to prevent injuries during handling and maintenance.
3. Regular Inspections: Conduct routine inspections of the mill chains to identify any signs of wear, damage, or malfunction. Address any issues promptly to avoid potential accidents.
4. Lubrication: Proper and regular lubrication of the mill chain is essential to reduce friction and wear. However, ensure that lubricants used are compatible with the application and do not pose any health hazards.
5. Load Capacity: Do not exceed the recommended load capacity of the mill chain. Overloading can lead to premature failure and accidents.
6. Guarding: Install appropriate guards and safety devices to prevent accidental contact with moving parts of the mill chain and reduce the risk of entanglement.
7. Emergency Stop Devices: Equip the mill chain system with emergency stop devices that allow workers to quickly halt the operation in case of emergencies or potential hazards.
8. Handling Hazardous Materials: If the mill chain is used in handling hazardous materials, ensure that proper containment and safety measures are in place to prevent spills and exposures.
9. Environmental Considerations: Be mindful of the environmental impact of using mill chains. Follow proper waste disposal procedures and consider eco-friendly alternatives when applicable.
10. Compliance with Regulations: Ensure that the mill chains and associated equipment comply with relevant safety regulations and standards set by regulatory authorities.
By adhering to these safety considerations and maintaining a proactive safety culture, the risk of accidents and injuries in industrial settings can be significantly reduced, creating a safer and more productive work environment.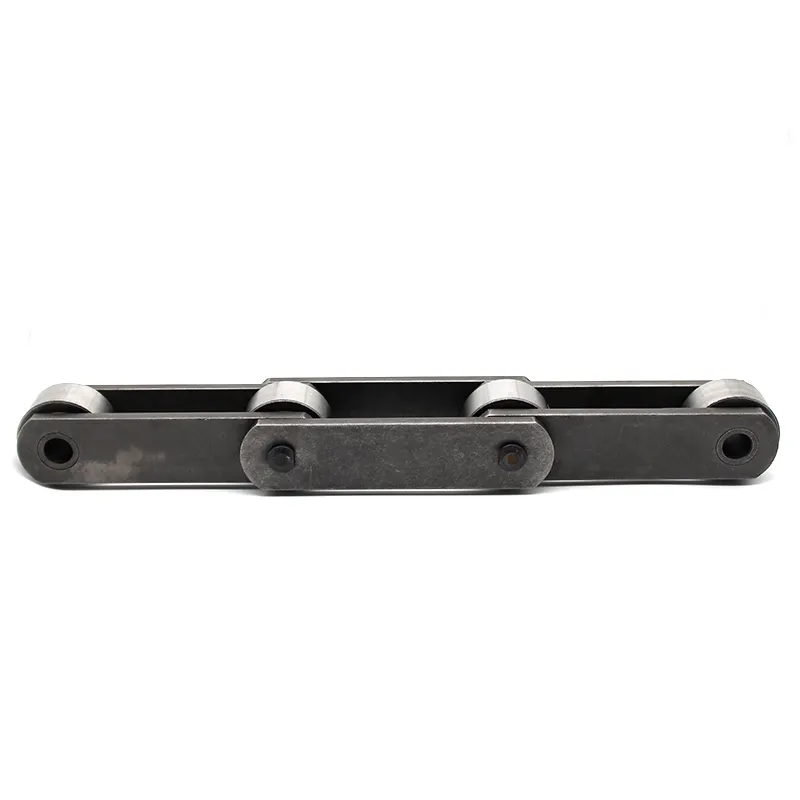 What is a mill chain and how is it used in industrial applications?
Mill chains, also known as conveyor chains or industrial chains, are a type of heavy-duty chain used in various industrial applications. They are designed to convey or move materials in a controlled and efficient manner within industrial processes.
These chains typically consist of a series of interconnected links that form a continuous chain loop. Each link is designed to engage with sprockets, which provide the driving force to move the chain and the attached materials.
Mill chains are commonly used in industries such as:
Steel Production: In steel mills, mill chains are used to transport raw materials, such as iron ore, coal, and limestone, to various processing stations.
Lumber and Paper Industries: Mill chains are utilized to convey logs, wood chips, and paper rolls in sawmills and paper mills.
Cement Plants: These chains are used to transport materials like limestone, gypsum, and clinker in cement manufacturing.
Grain Handling: In grain elevators and agricultural facilities, mill chains are used to move bulk grains and seeds.
Mining: Mill chains are used in mining operations to transport minerals and ores.
Automotive Manufacturing: These chains are used in assembly line processes for automotive production.
Bottling and Packaging: Mill chains are used to move products through bottling and packaging lines.
One of the essential features of mill chains is their robust construction, which allows them to handle heavy loads and endure harsh environments. They are often made from durable materials, such as carbon steel or stainless steel, to resist wear, corrosion, and other forms of damage.
Mill chains play a vital role in streamlining industrial processes, increasing productivity, and ensuring the efficient movement of materials throughout various stages of production. Proper maintenance and lubrication are necessary to extend the life and performance of mill chains in demanding industrial applications.



editor by CX 2023-08-17