Product Description
Conveyor Chains Bucket Elevator Chains For Cement Mill Industry
Product Description
Ever-power chain-type bucket elevators include a heavy-duty, steel bushed chain. These chains are designed to provide superior performance in the most severe working conditions. High strength, hardened pins, bushings and sidebars offer excellent wear resistance, great fatigue resistance and reduce chain elongation.
Company Profile
The company has advanced manufacturing technology and relatively strong manufacturing force, and high-end precision testing instruments to ensure that every chain leaving the factory is qualified. The company mainly deals in: transmission chain, transmission chain, lifting chain, agricultural machinery chain, stainless steel chain, etc. Various non-standard chains are ordered separately. The company uses more than 600 kinds of non-standard molds. It can be customized according to drawings. We implement all-round management and control over product quality and service, and constantly improve customer satisfaction. The chain produced by the company enjoys a certain reputation in the world with its high quality, good reputation and high-quality service.
Related products
The chain types are divided into engineering chain, conveying chain, plate chain, transmission chain, escalator chain, parking equipment chain, agricultural chain, stainless steel chain, etc. There are different types of chains with different purposes, specifications, models and styles. 
Plate chain type Plate chain is usually used to lift goods. For example, forklift, lifting machinery and equipment. Plate chain has no rollers, but chain plates are connected with each other. It is a kind of chain used for loading. Different types of plate chains have different functions,
Stainless steel chain Stainless steel chain types include standard stainless steel chain, stainless steel hollow pin chain, stainless steel chain used for environmental protection equipment, etc,
 
Type of transmission chain Many types of transmission chains are power transmission chains, such as precision roller chains, double pitch roller chains, high-strength short pitch precision roller chains, petroleum chains, pumping unit chains, self-lubricating roller chains, side bending (turning machine) chains, corrosion resistant chains, etc
There are many types of escalator chains, including escalator step chains, heavy-duty high gradient escalator step chains, travelator chains, and escalator chains of different specifications and models,

 

The engineering chain includes many kinds of chains, such as cement bucket elevators, environmental protection equipment, pavers, trenchers, welding equipment, mining, power plant dust removal and other equipment.
 
Agricultural machinery chain Agricultural machinery chain is a chain developed and produced according to the characteristics of different crops, including rice harvester chain, GS38 combine chain, corn harvester chain, citrus straw harvester chain, soybean harvester chain, peanut harvesting chain, garlic sowing chain, and potato planter chain.
There are many types of conveying chains, such as wood conveying chain, double speed chain, RF conveying chain, sharp tooth chain, sugar chain, brown oil chain, F chain, metric conveying chain, top roller conveying chain, grain scraper, hollow pin, suspension conveying, etc. The conveying chain is a power chain for transporting goods.
Parking equipment chain This type of chain includes roller chains for parking equipment, chains for vertical circulation parking equipment, and parking equipment chains that can be developed according to demand.
 
We not only produce chains and transmissions, including gear boxes, sprockets, gears, racks, couplings and other products, but also supply them to meet your one-stop purchase. Welcome to consult us
Packaging & Shipping
Certifications
| | |
| --- | --- |
| Usage: | Transmission Chain, Drag Chain, Conveyor Chain, Dedicated Special Chain |
| Material: | Stainless steel |
| Surface Treatment: | Oil Blooming |
| Feature: | Oil Resistant |
| Chain Size: | 1/2"*3/32" |
| Structure: | Roller Chain |
Samples:

US$ 9999/Piece

1 Piece(Min.Order)

|
Request Sample
Can mill chains be used for power transmission in industrial machinery?
Yes, mill chains can be used for power transmission in various industrial machinery applications. While they are commonly known for their use in material handling systems, mill chains also exhibit qualities that make them suitable for power transmission purposes. Here are some key points to consider:
Power Transmission Capability:
1. High Strength: Mill chains are designed to handle heavy loads and high-capacity material transfer, making them capable of transmitting significant power in industrial machinery.
2. Robust Construction: These chains are built with durable materials and precision engineering to withstand the stresses of power transmission, ensuring reliable operation over extended periods.
3. Uniform Load Distribution: Mill chains distribute the transmitted power evenly across their links and components, reducing the risk of premature wear or failure.
Applications in Industrial Machinery:
1. Conveyors: Mill chains can be used in conveyor systems to power the movement of materials or products along the production line. They are especially suitable for heavy-duty and continuous operation.
2. Elevators and Lifts: Mill chains are employed in vertical conveying systems, such as bucket elevators or lift mechanisms, where power needs to be transmitted efficiently and reliably.
3. Mechanical Drives: In certain industrial machinery, mill chains can be used in mechanical drives to transfer power from one component to another, such as in gear systems or chain drives.
4. Assembly Lines: Mill chains can play a role in power transmission for automated assembly lines, enabling smooth and synchronized movement of components during the manufacturing process.
Benefits:
1. Cost-Effective: Mill chains offer a cost-effective solution for power transmission compared to other types of power transmission systems.
2. Reliability: With proper maintenance, mill chains can provide reliable power transmission, contributing to the efficiency of industrial machinery.
3. Adaptability: Mill chains are available in various sizes and configurations, making them adaptable to different industrial applications.
Overall, mill chains can be a viable option for power transmission in industrial machinery, especially in applications that require heavy-duty, high-strength, and reliable power transfer capabilities.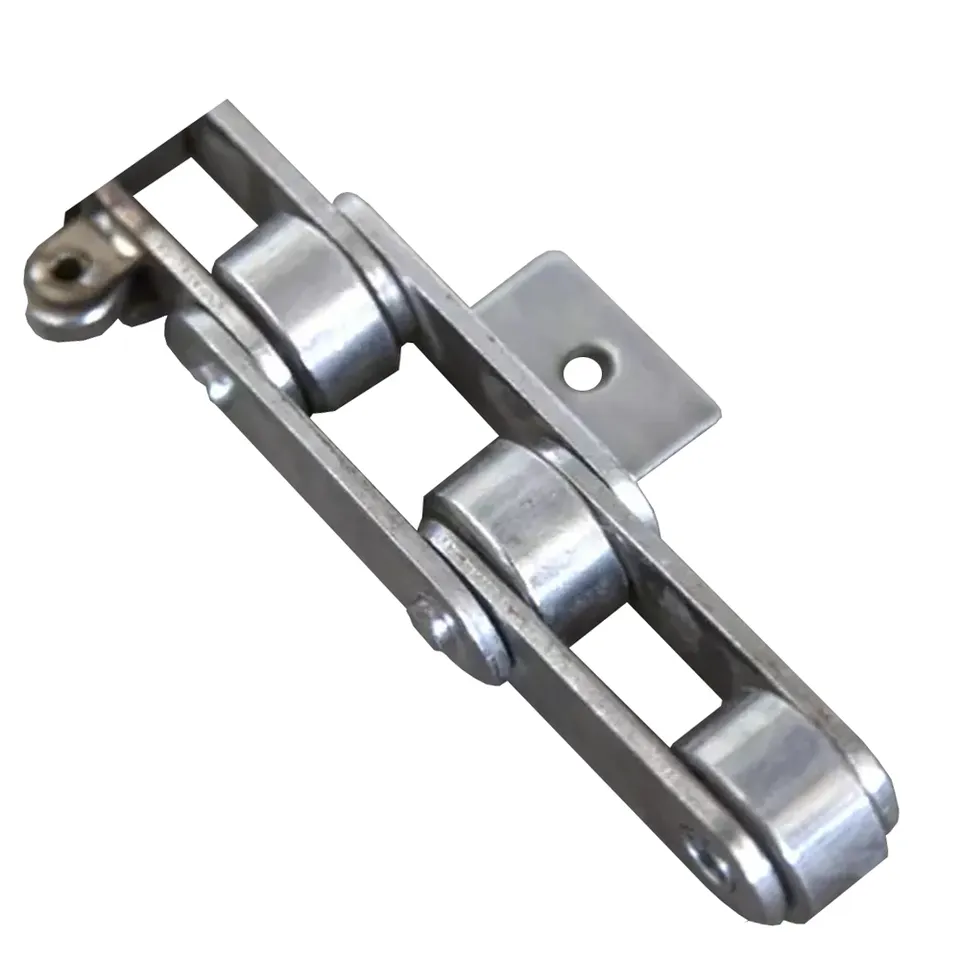 How do mill chains handle wear and tear in continuous operation?
Mill chains are designed to handle wear and tear in continuous operation, making them suitable for various industrial applications. Here's how they effectively manage wear and tear:
1. High-Quality Materials: Mill chains are typically made from high-quality alloy steel or other durable materials, which enhances their resistance to wear and tear.
2. Hardened Components: The components of mill chains, such as pins and bushings, are often hardened to increase their toughness and wear resistance.
3. Precision Manufacturing: Mill chains undergo precise manufacturing processes to ensure consistent quality, reducing the likelihood of premature wear.
4. Lubrication: Proper lubrication is essential to reduce friction and wear between the chain components. Regular lubrication helps to prolong the chain's life and maintain its performance.
5. Proper Tensioning: Maintaining the correct tension in the mill chain is crucial. Proper tensioning ensures smooth operation and minimizes stress on the chain, reducing wear.
6. Protection Against Contaminants: In dusty or dirty environments, mill chains can be equipped with protective covers or seals to prevent abrasive particles from entering the chain, reducing wear.
7. Inspection and Maintenance: Regular inspections and maintenance are essential to identify any signs of wear and address issues promptly. Replacing worn components or adjusting tension as needed can extend the chain's life.
8. Suitable Speed and Load: Ensuring that the mill chain operates within its recommended speed and load limits helps prevent excessive wear and prolong its lifespan.
9. Chain Alignment: Proper alignment of the mill chain and sprockets is crucial to prevent uneven wear and premature failure.
10. Replaceable Components: In many mill chain designs, individual components like pins and bushings are replaceable, allowing for cost-effective maintenance and reducing downtime.
Overall, proper selection, installation, and maintenance of mill chains are essential to ensuring their longevity and reliable performance in continuous operations, reducing downtime and production disruptions.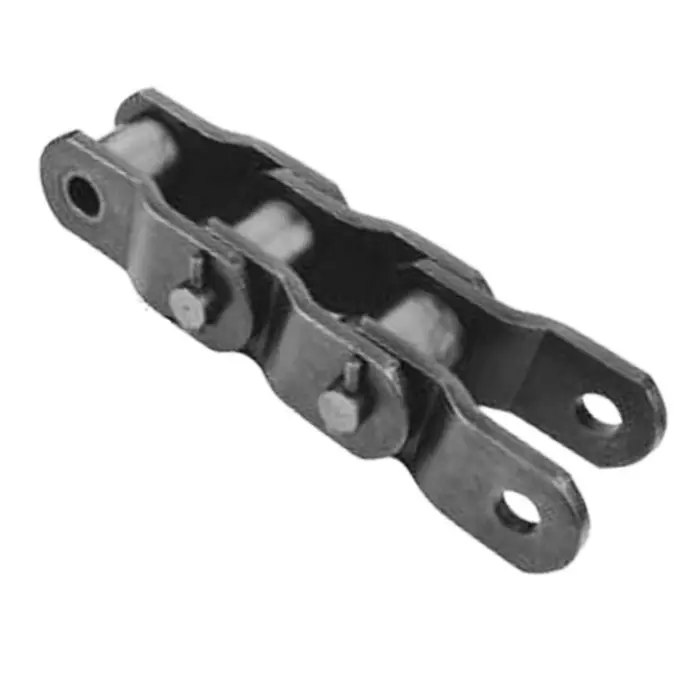 Can mill chains be used in grain milling and food processing applications?
Yes, mill chains are commonly used in grain milling and food processing applications due to their ability to handle bulk materials and withstand harsh operating conditions. Here's how mill chains are utilized in these industries:
1. Grain Milling: Mill chains are extensively used in grain milling facilities to transport grains, such as wheat, corn, rice, and oats, through various stages of the milling process. They are used in conveyors to move grains from one processing unit to another, including storage bins, cleaning machines, separators, and milling machines. Mill chains in grain milling applications must be resistant to abrasion and corrosion, as grains can be abrasive and may contain moisture or other contaminants.
2. Food Processing: In the food processing industry, mill chains are employed to handle a wide range of food products, including fruits, vegetables, meat, dairy, and bakery items. They are used in conveyors and processing equipment to move raw materials and finished products throughout the production process. Food-grade mill chains are essential to ensure hygiene and prevent contamination of food products. These chains are designed with materials that are safe for direct contact with food and are easy to clean and maintain.
Both grain milling and food processing require reliable and efficient material handling systems to maintain the quality and integrity of the products. Mill chains play a crucial role in ensuring smooth and consistent movement of materials, contributing to the overall efficiency and productivity of these industries.



editor by CX 2023-09-12