Product Description
Palm Oil Mills chain
palm oil conveyor roller chain, coconut palm oil chain,foods containing palm oil Chain,organic palm kernel oil chain,Oil Palm Plant Chain,Palm oil chain P101.6F2, P152F14, P152F17
Meet or exceed DIN, ANSI, ISO, BS, JS standard, and our chains stand up to the toughest working environments with years of trouble-free performance.
We can design and manufacture almost any solution for power transmission problems. We offer quality, reliable products that perform consistently under the harshest conditions. Our products are competitively priced, readily available and deliver on time, which means you get what you need, when you need it.
Sourcing from us brings you profit, and your OEM/ODM items are always welcomed, looking CHINAMFG to establish CHINAMFG business relations with you in the near future.
General Standard for Roller Chain:
ROLLER
Solid Roller
Material 1035, 1045 or 1050
Through harden with surface and core 40-45HRC
Shot peening per the spec
BUSHING
Solid or Split Bushing per the spec
Material 1019M or 1571
Case harden(Carburized) 89HR 15Minimum
Hardness total case depth per the spec
CASE HARDENED PIN
Material 10B21 fine grain, 4118 or 8620
Case harden(Carburized) 89HR 15Minimum
Hardness total case depth per the spec
PLATE(Connectors, Links and Sides )
Material 1045 or 1050
Through harden with surface and core 39-45HRC
P
P
d1(max)
b1(min)
Pt
N
N
h2(max)
Q
Q
Q
in
mm
mm
mm
mm
mm
KN
KN
KN
60
3/4″
19.05
11.91
12.70
22.78
1099
1833
18.08
31.27
62.54
93.81
80
1″
25.40
15.87
15.88
29.29
1944
3238
24.13
55.60
111.20
166.80
100
11/4″
31.75
19.05
19.05
35.76
2825
4715
30.18
86.84
173.68
260.52
120
11/2″
38.10
22.22
25.40
45.44
3821
6361
36.20
125.10
250.20
375.30
140
13/4″
44.45
25.4
25.40
48.87
4982
8363
42.24
170.27
340.54
510.81
160
2″
50.80
28.57
31.75
58.55
6316
10542
48.26
222.40
444.80
667.20
180
21/4″
57.15
35.71
35.71
65.84
9430
15747
54.31
281.57
563.14
844.71
200
21/2″
63.50
39.67
38.10
71.55
12188
2571
60.33
347.41
694.82
1571.23
240
3″
76.20
47.62
47.62
87.83
15747
23931
72.39
500.40
1000.80
1501.30
| | |
| --- | --- |
| Usage: | Transmission Chain, Conveyor Chain |
| Material: | Alloy |
| Surface Treatment: | Oil Blooming |
| Feature: | Heat Resistant |
| Chain Size: | 1/2"*11/128" |
| Structure: | Roller Chain |
Samples:

US$ 60/Piece

1 Piece(Min.Order)

|
Request Sample
Customization:

Available

|

Customized Request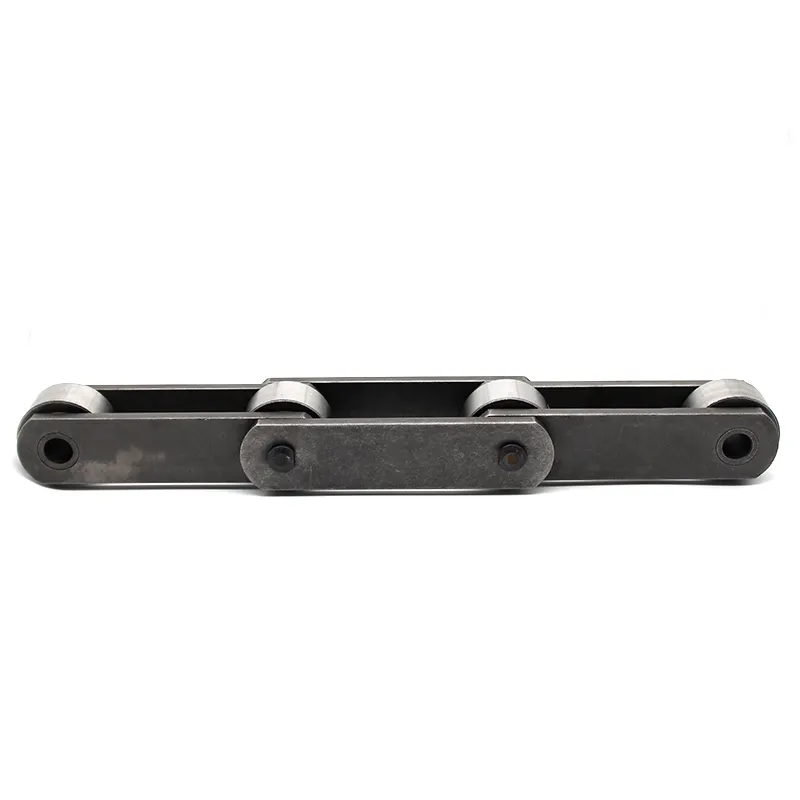 What are the environmental considerations when using mill chains?
When using mill chains in industrial applications, several environmental considerations should be taken into account. These factors are important for sustainable and eco-friendly operations. Here are the key environmental considerations:
1. Lubrication: Proper lubrication of mill chains is essential for reducing friction and wear, which can lead to chain failure and increased energy consumption. Using environmentally friendly lubricants can minimize the impact on the environment.
2. Noise and Vibration: Excessive noise and vibration from chains can negatively impact the surrounding environment and workers' well-being. Choosing chains with low noise and vibration characteristics can help maintain a more pleasant and safe working environment.
3. Material Selection: Opting for chains made from materials with low environmental impact, such as recycled or sustainable materials, can contribute to eco-friendliness.
4. Chain Recycling and Disposal: Implementing proper chain recycling and disposal practices ensures that end-of-life chains are managed in an environmentally responsible manner.
5. Chain Maintenance: Regular maintenance of mill chains is crucial to prevent premature wear and reduce the likelihood of environmental contamination from chain breakages.
6. Energy Efficiency: Selecting energy-efficient chain designs and maintaining proper tension can lead to reduced energy consumption and lower greenhouse gas emissions.
7. Preventing Chain Contamination: Keeping chains clean and free from debris can prevent potential environmental pollution when used in applications handling sensitive materials.
8. Compliance with Regulations: Adhering to environmental regulations and standards is essential to minimize the impact of chain usage on the environment.
9. Environmental Certification: Some chain manufacturers offer products with environmental certifications or comply with international standards for sustainability, providing assurance of eco-friendly practices.
10. Application-Specific Considerations: Different industries and applications may have unique environmental challenges. Considering these specific factors when selecting and using mill chains is vital.
By taking these environmental considerations into account, industries can work towards reducing their ecological footprint and contributing to more sustainable practices in their chain usage.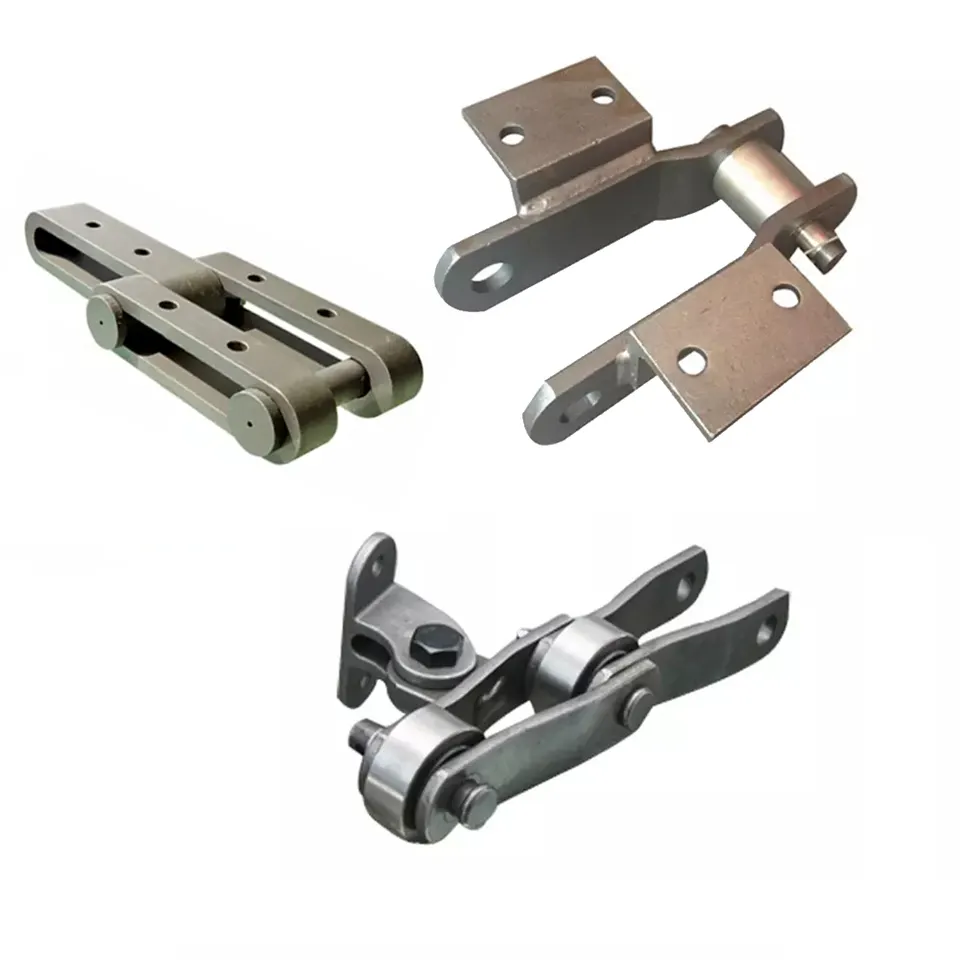 How do mill chains perform in high-precision and automated processes?
Mill chains are well-suited for high-precision and automated processes due to their reliable performance, accurate positioning, and consistent material transfer capabilities. In such applications, precision and reliability are crucial to ensuring smooth and efficient operations. Here's how mill chains excel in high-precision and automated processes:
Accurate Material Handling: Mill chains offer precise control over material movement, making them ideal for applications that require accurate positioning and handling of components or products.
Consistent Speed and Timing: In automated processes, mill chains provide consistent speed and timing, ensuring that each step in the production or material handling sequence is executed accurately and without delays.
Low Backlash: Mill chains have minimal backlash, meaning there is little to no play or movement between chain links. This characteristic is essential in applications where precise positioning is required.
High Load Capacity: Despite their precision, mill chains are designed to handle heavy loads, making them suitable for applications where precision and strength are both necessary.
Reduced Maintenance: Well-maintained mill chains have minimal wear and elongation, leading to reduced downtime and maintenance costs in high-precision processes.
Compatibility with Automation: Mill chains can be easily integrated into automated systems and synchronized with other equipment, enabling seamless and reliable operation in automated manufacturing or material handling setups.
Various Configurations: Mill chains are available in various configurations, including single-strand, double-strand, and multi-strand designs, allowing for customization based on the specific needs of high-precision processes.
Corrosion Resistance: When required, corrosion-resistant mill chains can be used in automated processes to ensure long-term reliability, especially in demanding environments.
For high-precision and automated processes, proper chain selection, regular maintenance, and appropriate lubrication are essential to ensure optimal performance and extend the service life of mill chains. Additionally, using high-quality mill chains from reputable manufacturers enhances the reliability and precision of the automated systems, contributing to improved productivity and product quality.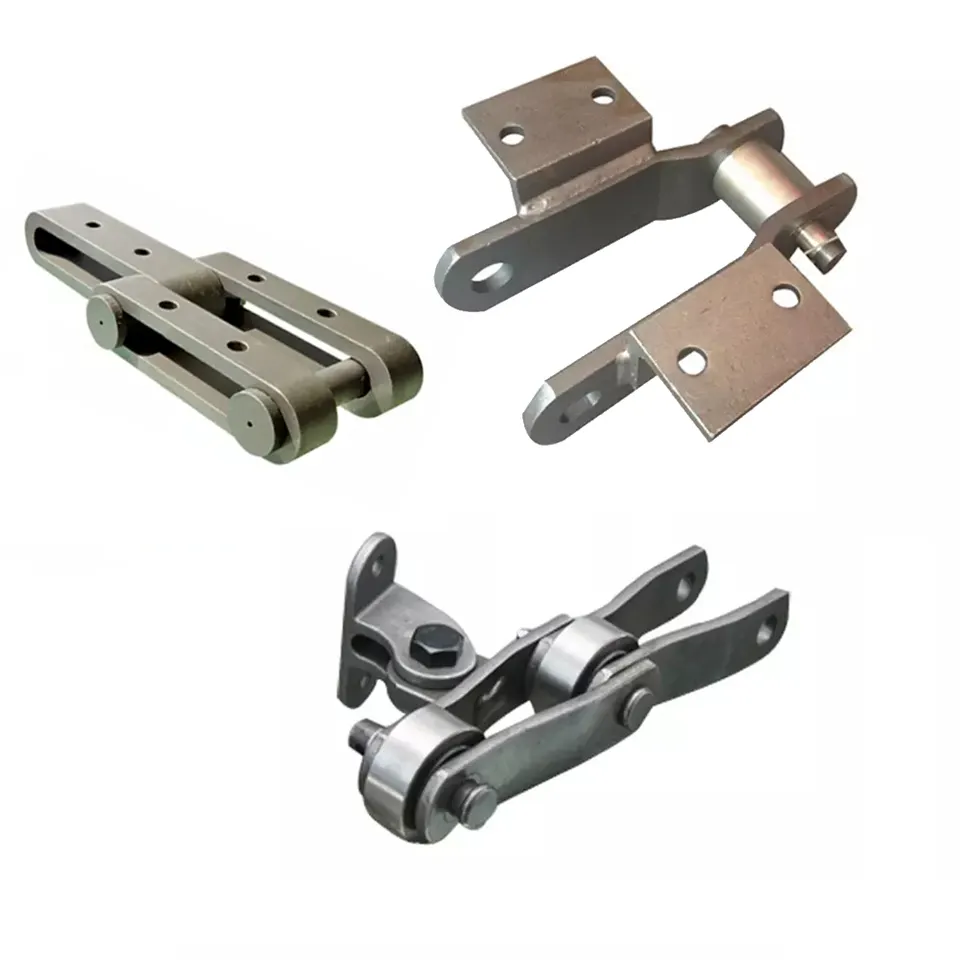 What materials are mill chains typically made of for different industries?
Mill chains are manufactured using various materials to suit the specific requirements of different industries and applications. The choice of material depends on factors such as the operating environment, load capacity, and resistance to wear and corrosion. Here are some commonly used materials for mill chains in different industries:
1. Carbon Steel: Carbon steel mill chains are widely used in various industrial applications due to their high tensile strength and affordability. They are suitable for medium to heavy-duty material handling tasks and can withstand harsh conditions.
2. Stainless Steel: Stainless steel mill chains are preferred in industries where corrosion resistance is crucial. They are commonly used in food processing, chemical, and pharmaceutical industries where exposure to moisture, chemicals, or high temperatures can occur.
3. Alloy Steel: Alloy steel mill chains are known for their exceptional strength and durability. They are used in heavy-duty applications, such as steel manufacturing, mining, and forestry, where the chains are subjected to significant loads and abrasion.
4. Nickel-Plated Steel: Nickel-plated steel mill chains provide additional protection against corrosion and wear. They are often used in industries where exposure to chemicals or outdoor elements is a concern.
5. Plastic or Polymer: In certain industries, such as food and beverage manufacturing or electronics, plastic or polymer mill chains may be used. These chains offer non-metallic properties, making them ideal for applications that require chemical resistance and low-noise operation.
6. Galvanized Steel: Galvanized steel mill chains are coated with a layer of zinc to enhance their corrosion resistance. They are commonly used in outdoor applications or environments where moisture and rust may be a concern.
It's essential to choose the right material based on the specific needs of the industry and the operating conditions of the application. Factors such as load capacity, speed, temperature, and exposure to chemicals or moisture play a crucial role in determining the appropriate material for mill chains in different industries.



editor by CX 2023-10-17