Product Description
Product Description
KASIN intermediate carrier chains operate in the most corrosive conditions brought about by continous operation in raw sugar juice.As a  consquence chains employ corrosion resistant materials . The swivel attachments allows for self allignment of the strands during operation compensating for anymismatch.
Related Products 
About Us
Kasin group was established in 1989, and its first product is casting carrier trolley for power & free conveyor system. In 1995, CZPT purchased HangZhou Guoping Forging Factory (LYGP), a marketer of forging bolts & nuts to power & free line market in china. With this acquisition, CZPT positioned itself as 1 of major parts suppliers of monorail and power & free conveyor system in china.
In 2
| | |
| --- | --- |
| Material: | Alloy |
| Structure: | Roller Chain |
| Surface Treatment: | Polishing |
| Feature: | Fire Resistant, Oil Resistant, Heat Resistant |
| Width Between Inner Plates: | 38.20mm |
| Pin Dia: | 23.80mm |
Samples:

US$ 100/Meter

1 Meter(Min.Order)

|
Request Sample
Customization:

Available

|

Customized Request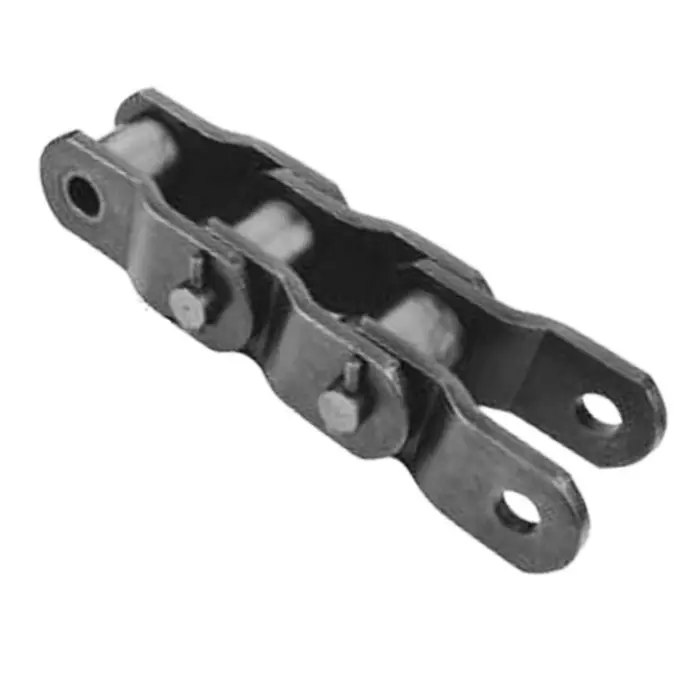 Can mill chains be used in the forestry and timber processing industry?
Yes, mill chains are commonly used in the forestry and timber processing industry for various applications. These chains are well-suited to handle the demanding and rugged conditions encountered in this sector. Here are the details of how mill chains are utilized in the forestry and timber processing industry:
1. Timber Handling: Mill chains are used in conveyor systems to transport timber and logs from one processing stage to another. They can handle heavy loads and provide reliable material transfer, making them essential for efficient timber handling operations.
2. Sawmills: In sawmills, mill chains are utilized in sawing equipment and lumber processing machinery. They help feed the logs and lumber through the cutting and processing equipment, ensuring a smooth and continuous operation.
3. Debarking Machines: Mill chains are employed in debarking machines, which remove the bark from the logs before further processing. These chains withstand the abrasive effects of the bark and debris, maintaining their performance and longevity.
4. Chipper Machines: Mill chains are used in chipper machines that convert wood waste and by-products into wood chips or biofuel. These chains efficiently convey the wood materials through the chipping process.
5. Conveying and Sorting: Mill chains are integral components of conveyor systems used for sorting and transporting timber products. They ensure smooth and controlled material flow, optimizing production efficiency.
6. High Strength and Durability: Mill chains are designed to withstand heavy loads, shock loads, and abrasive conditions. This high strength and durability make them suitable for the demanding environments of the forestry and timber processing industry.
7. Customization: Chains can be customized to fit specific equipment and applications, allowing for optimal performance and precise material handling.
8. Reduced Maintenance: Mill chains are engineered to require minimal maintenance, reducing downtime and increasing overall productivity in timber processing operations.
9. Corrosion Resistance: In outdoor environments and in contact with wood, moisture, and other elements, corrosion-resistant mill chains are available, providing extended service life and preventing chain deterioration.
10. Environmental Considerations: Timber processing industries often operate in natural habitats. Using mill chains with low environmental impact, such as those with reduced noise and vibration, can be beneficial for the surrounding ecosystem.
Overall, mill chains are essential components in the forestry and timber processing industry, facilitating the efficient and reliable handling, cutting, and processing of wood materials at various stages of production.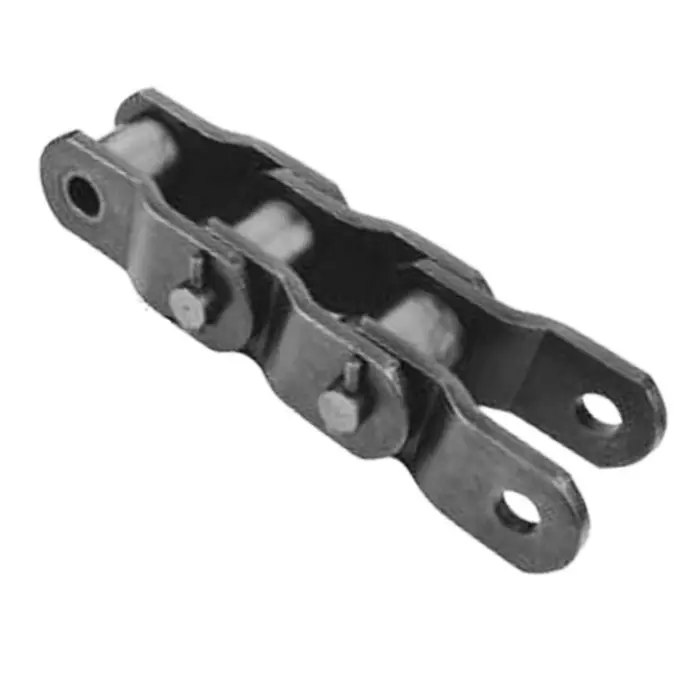 Can mill chains be used in the aerospace and aviation industries?
Mill chains are typically not used in the aerospace and aviation industries for primary applications due to several reasons:
Weight and Space Constraints: Aerospace and aviation industries have strict weight limitations, and using heavy mill chains would be impractical for aircraft and spacecraft components.
High Precision Requirements: Aerospace and aviation applications often require extremely high precision and tight tolerances, which may not be achievable with standard mill chains.
Specialized Components: Aerospace and aviation industries require specialized components that meet rigorous safety and performance standards. Standard mill chains may not have the necessary certifications or approvals for such critical applications.
Extreme Environments: Aerospace and aviation components are exposed to extreme conditions such as high speeds, high altitudes, and rapid temperature changes. Mill chains may not be able to withstand these conditions reliably.
Instead, the aerospace and aviation industries use specialized materials and components designed specifically for their unique requirements. These materials often include lightweight alloys, composites, and high-precision components that undergo extensive testing and certification to meet industry standards.
In conclusion, while mill chains are versatile and widely used in various industrial applications, they are not suitable for the aerospace and aviation industries, where specialized components and materials are crucial for safety, performance, and weight considerations.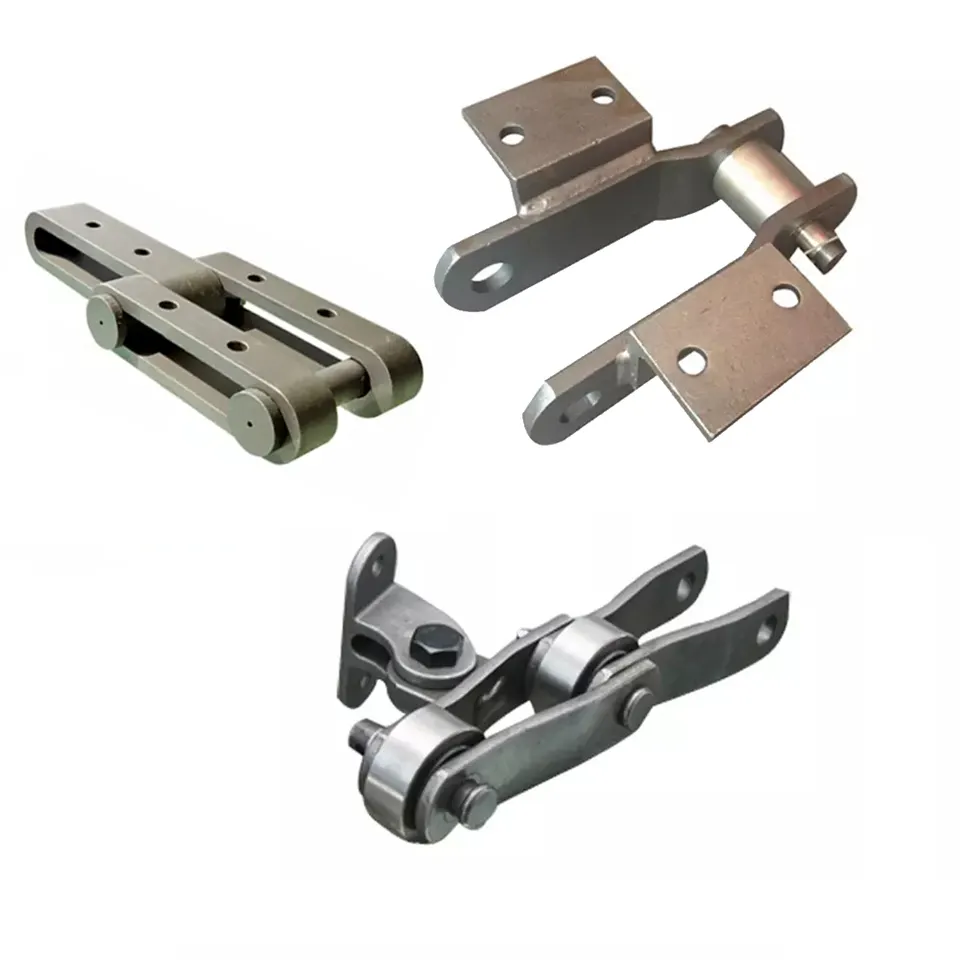 What materials are mill chains typically made of for different industries?
Mill chains are manufactured using various materials to suit the specific requirements of different industries and applications. The choice of material depends on factors such as the operating environment, load capacity, and resistance to wear and corrosion. Here are some commonly used materials for mill chains in different industries:
1. Carbon Steel: Carbon steel mill chains are widely used in various industrial applications due to their high tensile strength and affordability. They are suitable for medium to heavy-duty material handling tasks and can withstand harsh conditions.
2. Stainless Steel: Stainless steel mill chains are preferred in industries where corrosion resistance is crucial. They are commonly used in food processing, chemical, and pharmaceutical industries where exposure to moisture, chemicals, or high temperatures can occur.
3. Alloy Steel: Alloy steel mill chains are known for their exceptional strength and durability. They are used in heavy-duty applications, such as steel manufacturing, mining, and forestry, where the chains are subjected to significant loads and abrasion.
4. Nickel-Plated Steel: Nickel-plated steel mill chains provide additional protection against corrosion and wear. They are often used in industries where exposure to chemicals or outdoor elements is a concern.
5. Plastic or Polymer: In certain industries, such as food and beverage manufacturing or electronics, plastic or polymer mill chains may be used. These chains offer non-metallic properties, making them ideal for applications that require chemical resistance and low-noise operation.
6. Galvanized Steel: Galvanized steel mill chains are coated with a layer of zinc to enhance their corrosion resistance. They are commonly used in outdoor applications or environments where moisture and rust may be a concern.
It's essential to choose the right material based on the specific needs of the industry and the operating conditions of the application. Factors such as load capacity, speed, temperature, and exposure to chemicals or moisture play a crucial role in determining the appropriate material for mill chains in different industries.



editor by CX 2023-09-06