Product Description
OUR PRODUCTS LIST:
A and B series single/double/triple standard roller chain and no-standard roller chain
DIN/ISO
ANSI
Pitch
Roller
Width
Pin
Pin
Lnner
Plate
Ultimate
Average
weight
KIN/ISO
ANSL
 
 
between
diameter
length
plate
thick
tensile
tensile
per
Chain
Chain
 
 
inner plates
 
 
 
depth
-ness
strength
strength
meter
No.
No.
P
d1
b1
d2
L
Lc
h2
T
Q
Q0
q
 
 
max
min
max
max
max
max
max
min
 
 
mm
mm
mm
mm
mm
mm
mm
mm
kN/LB
kN
kg/m
*03C
*15
4.7625
2.48
2.38
1.62
6.1
6.9
4.3
0.6
1.80/409
2
0.08
*04C-1
*25
6.35
3.3
3.18
2.31
7.9
8.4
6
0.8
3.50/795
4.6
0.15
*06C-1
*35
9.525
5.08
4.77
3.58
12.4
13.17
9
1.3
7.90/1795
10.8
0.33
085-1
41
12.7
7.77
6.25
3.58
13.75
15
9.91
1.3
6.67/1516
12.6
0.41
08A-1
40
12.7
7.95
7.85
3.96
16.6
17.8
12
1.5
14.10/3205
17.5
0.62
10A-1
50
15.875
10.16
9.4
5.08
20.7
22.2
15.09
2.03
22.20/5045
29.4
1.02
12A-1
60
19.05
11.91
12.57
5.94
25.9
27.7
18
2.42
31.80/7227
41.5
1.5
16A-1
80
25.4
15.88
15.75
7.92
32.7
35
24
3.25
59.70/12886
69.4
2.6
20A-1
100
31.75
19.05
18.9
9.53
40.4
44.7
30
4
88.50/20114
109.2
3.91
24A-1
120
38.1
22.23
25.22
11.1
50.3
54.3
35.7
4.8
127.00/28864
156.3
5.62
28A-1
140
44.45
25.4
25.22
12.7
54.4
59
41
5.6
172.40/39182
212
7.5
32A-1
160
50.8
28.58
31.55
14.27
64.8
69.6
47.8
6.4
226.80/51545
278.9
1.1
36A-1
180
57.15
35.71
35.48
17.46
72.8
78.6
53.6
7.2
280.20/63682
341.8
13.45
40A-1
200
63.5
39.68
37.85
19.85
80.3
87.2
60
8
353.80/80409
431.6
16.15
48A-1
240
76.2
47.63
47.35
23.81
90.5
103
72.39
9.5
51.30/115977
622.5
23.2
 DIN/ISO
Pitch
Roller
Width
Pin
Pin
Lnner
Plate
Ultimate
Average
weight
KIN/ISO
 
 
between
diameter
length
plate
thick
tensile
tensile
per
Chain
 
 
inner plates
 
 
 
depth
-ness
strength
strength
meter
No.
P
d1
b1
d2
L
Lc
h2
T
Q
Q0
q
 
max
min
max
max
max
max
max
min
 
mm
mm
mm
mm
mm
mm
mm
mm
kN/LB
kN
kg/m
04B-1
6
4
2.8
1.85
6.8
7.8
5
0.6
3.2/682
3.2
0.11
05B-1
8
5
3
2.31
8.2
8.9
7.1
0.8
5.0/1136
5.9
0.2
*06B-1
9.525
6.35
5.72
3.28
13.15
14.1
8.2
1.3
9.0/2045
10.4
0.41
08B-1
12.7
8.51
7.75
4.45
16.7
18.2
11.8
1.6
18.0/4091
19.4
0.69
10B-1
15.875
10.16
9.65
5.08
19.5
20.9
14.7
1.7
22.4/5091
27.5
0.93
12B-1
19.05
12.07
11.68
5.72
22.5
24.2
16
1.85
29.0/6591
32.2
1.15
16B-1
25.4
15.88
17.02
8.28
36.1
37.4
21
4.15/3.1
60.0/13636
72.8
2.71
20B-1
31.75
19.05
19.56
10.19
41.3
45
26.4
4.5/3.5
95.0/21591
106.7
3.7
24B-1
38.1
25.4
25.4
14.63
53.4
57.8
33.2
6.0/4.8
160.0/36364
178
7.1
28B-1
44.45
27.94
30.99
15.9
65.1
69.5
36.7
7.5/6.0
200.0/45455
222
8.5
32B-1
50.8
29.21
30.99
17.81
66
71
42
7.0/6.0
250.0/56818
277.5
10.25
40B-1
63.5
39.37
38.1
22.89
82.2
89.2
52.96
8.5/8.0
355.0/80682
394
16.35
48B-1
76.2
48.26
45.72
29.24
99.1
107
63.8
 
560.0/127272
621.6
25
Products show
 
 
Our workshop
Our hot treatment equipment
    
 
   FAQ
Q1. What is your terms of packing?
A: Generally, we pack our goods in single color box. If you have special request about packing, pls negotiate with us in advance, we can pack the goods as your request.
Q2. What is your terms of payment?
A: T/T 30% as deposit, and 70% before delivery. We'll show you the photos of the products and packages 
before you pay the balance. Other payments terms, pls negotiate with us in advance, we can discuss.
Q3. What is your terms of delivery?
A: EXW, FOB, CFR, CIF.
Q4. How about your delivery time?
A: Generally, it will take 25 to 30 days after receiving your advance payment. The specific delivery time depends 
on the items and the quantity of your order.
Q5. Can you produce according to the samples?
A: Yes, we can produce by your samples or technical drawings. We can build the molds and fixtures.
Q6. What is your sample policy?
A: We can supply the sample if we have ready parts in stock, but the customers have to pay the sample cost and 
the courier cost.We welcome sample order.
Q7. Do you test all your goods before delivery?
A: Yes, we have 100% test before delivery
Q8: How do you make our business long-term and good relationship?
1. We keep good quality and competitive price to ensure our customers benefit ;
2. We respect every customer as our friend and we sincerely do business and make friends with them, 
no matter where they come from.
| | |
| --- | --- |
| Material: | Alloy |
| Structure: | Combined Chain |
| Surface Treatment: | Electroplating |
| Chain Size: | 1/2"*3/32" |
| Feature: | Fire Resistant, Oil Resistant, Heat Resistant |
| Transport Package: | Non-Fumigation Wooden Box, by Air, by Ocean |
Samples:

US$ 2/Meter

1 Meter(Min.Order)

|
Request Sample
Customization:

Available

|

Customized Request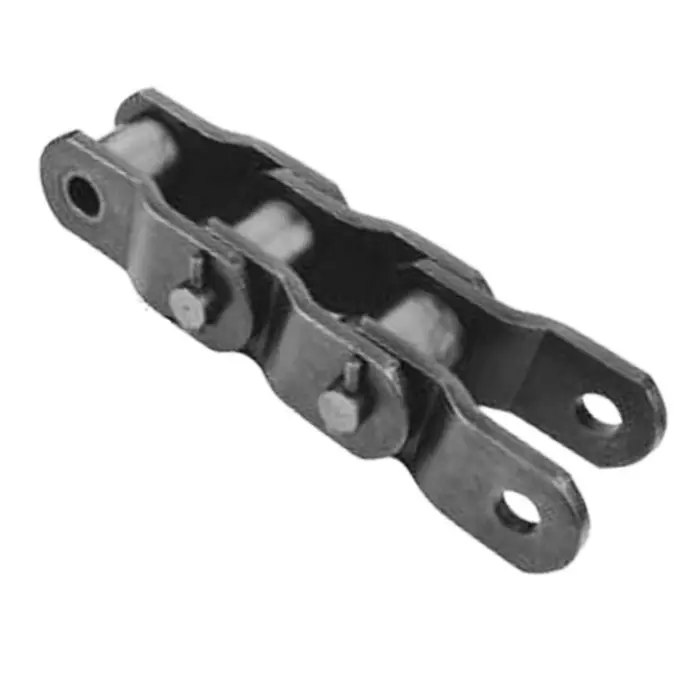 Can mill chains be used in the forestry and timber processing industry?
Yes, mill chains are commonly used in the forestry and timber processing industry for various applications. These chains are well-suited to handle the demanding and rugged conditions encountered in this sector. Here are the details of how mill chains are utilized in the forestry and timber processing industry:
1. Timber Handling: Mill chains are used in conveyor systems to transport timber and logs from one processing stage to another. They can handle heavy loads and provide reliable material transfer, making them essential for efficient timber handling operations.
2. Sawmills: In sawmills, mill chains are utilized in sawing equipment and lumber processing machinery. They help feed the logs and lumber through the cutting and processing equipment, ensuring a smooth and continuous operation.
3. Debarking Machines: Mill chains are employed in debarking machines, which remove the bark from the logs before further processing. These chains withstand the abrasive effects of the bark and debris, maintaining their performance and longevity.
4. Chipper Machines: Mill chains are used in chipper machines that convert wood waste and by-products into wood chips or biofuel. These chains efficiently convey the wood materials through the chipping process.
5. Conveying and Sorting: Mill chains are integral components of conveyor systems used for sorting and transporting timber products. They ensure smooth and controlled material flow, optimizing production efficiency.
6. High Strength and Durability: Mill chains are designed to withstand heavy loads, shock loads, and abrasive conditions. This high strength and durability make them suitable for the demanding environments of the forestry and timber processing industry.
7. Customization: Chains can be customized to fit specific equipment and applications, allowing for optimal performance and precise material handling.
8. Reduced Maintenance: Mill chains are engineered to require minimal maintenance, reducing downtime and increasing overall productivity in timber processing operations.
9. Corrosion Resistance: In outdoor environments and in contact with wood, moisture, and other elements, corrosion-resistant mill chains are available, providing extended service life and preventing chain deterioration.
10. Environmental Considerations: Timber processing industries often operate in natural habitats. Using mill chains with low environmental impact, such as those with reduced noise and vibration, can be beneficial for the surrounding ecosystem.
Overall, mill chains are essential components in the forestry and timber processing industry, facilitating the efficient and reliable handling, cutting, and processing of wood materials at various stages of production.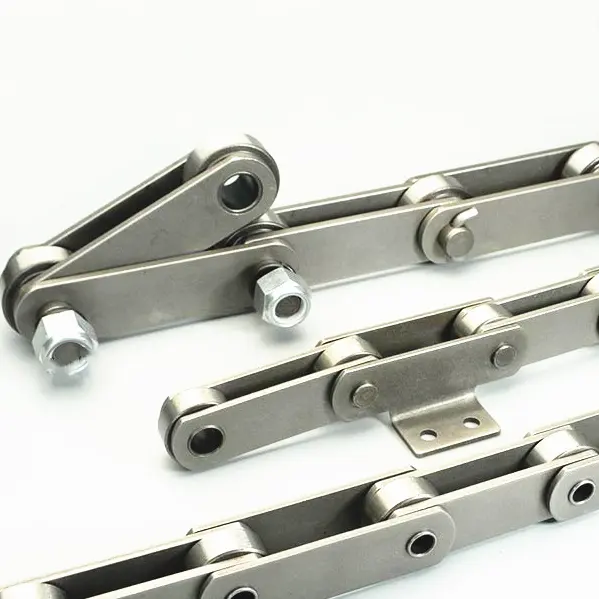 What are the factors to consider when selecting a mill chain for specific material handling needs?
When choosing a mill chain for specific material handling needs, several factors should be taken into consideration to ensure optimal performance and efficiency:
Load Capacity: Determine the maximum load that the mill chain will need to handle in the material handling application. Select a chain that has a sufficient load capacity to support the weight of the conveyed materials or products.
Speed: Consider the speed at which the chain will need to operate. Choose a mill chain that can handle the required speed without compromising on performance or safety.
Environment: Assess the operating environment for the mill chain. Consider factors such as temperature, humidity, presence of chemicals, and potential exposure to corrosive substances. Select a chain material and coating that can withstand the specific environmental conditions.
Corrosion Resistance: If the mill chain will be used in a corrosive environment, opt for a chain with corrosion-resistant materials or coatings to prevent premature wear and damage.
Alignment and Tolerance: Ensure that the chain's alignment and tolerance are suitable for the conveyor system or material handling equipment. Proper alignment will reduce wear and increase the chain's longevity.
Maintenance: Consider the maintenance requirements of the mill chain. Some chains may require more frequent maintenance, while others are designed for longer intervals between servicing.
Chain Type: Evaluate the different types of mill chains available, such as standard roller chains, double-pitch chains, attachment chains, or specialty chains. Choose the one that best suits the material handling application.
Compatibility: Ensure that the selected mill chain is compatible with the sprockets, attachments, and other components of the material handling system.
Cost: Compare the cost of different mill chain options while considering the overall value and performance they offer for the specific material handling needs.
By carefully considering these factors, you can select the most appropriate mill chain for the material handling application, ensuring smooth and reliable operation, reduced downtime, and extended chain life.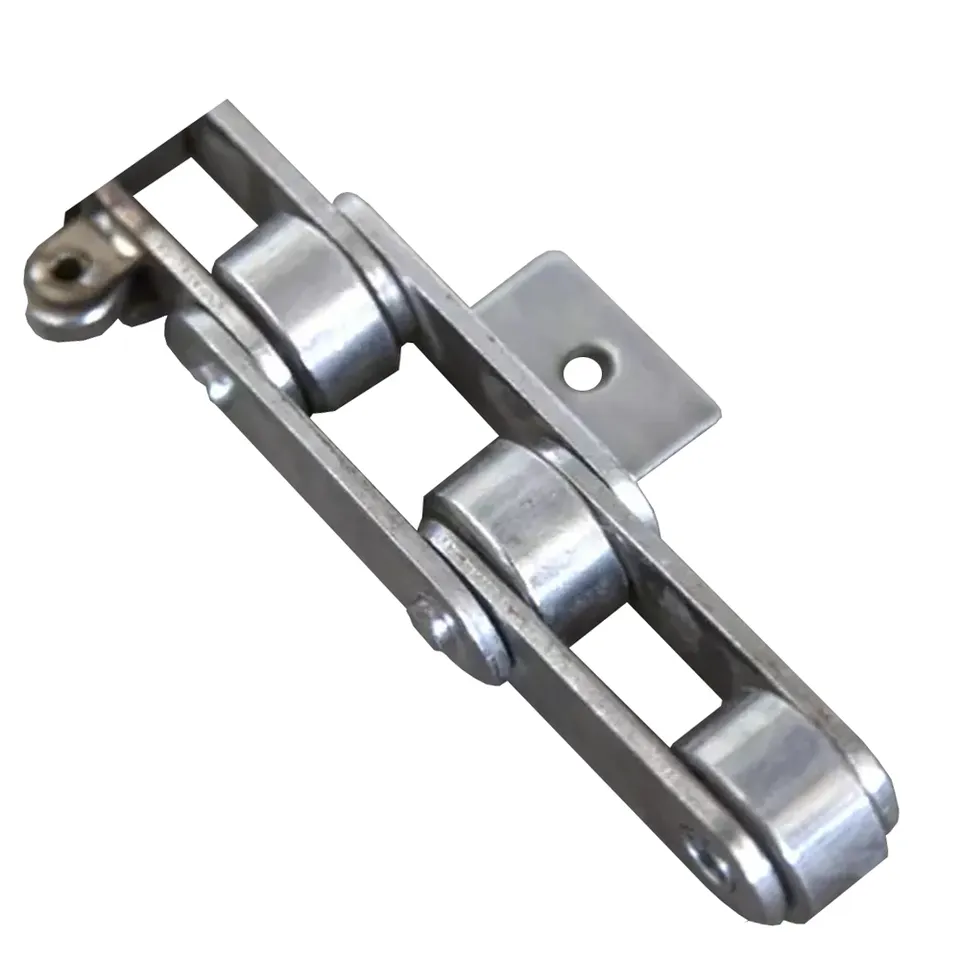 What are the noise and vibration characteristics of mill chains during operation?
During operation, mill chains may exhibit certain noise and vibration characteristics, which can vary depending on the specific design, condition, and application. Here are some key points to consider:
Noise Characteristics:
1. Rattling or Clanking: In some cases, mill chains may produce a rattling or clanking noise during operation. This noise can be caused by the impact of chain links or attachments as they move along the sprockets or other components.
2. Continuous Hum: Mill chains in well-maintained systems may produce a continuous humming sound, especially in higher-speed applications. The humming noise is often a result of the smooth and consistent movement of the chain links.
Vibration Characteristics:
1. Periodic Vibration: Mill chains can generate periodic vibrations as they pass over sprockets and other components. The vibration frequency is typically related to the chain's speed and the number of teeth on the sprockets.
2. Smooth Operation: Well-lubricated and properly tensioned mill chains usually exhibit smoother operation with minimal vibration. Proper maintenance is essential to reduce excessive vibration and noise levels.
Noise and Vibration Management:
Excessive noise and vibration in mill chain systems can lead to increased wear, fatigue, and reduced efficiency. To manage noise and vibration:
1. Regular Maintenance: Ensure regular inspection, lubrication, and tensioning of the mill chains to minimize wear and reduce noise levels.
2. Chain Condition: Replace any worn or damaged chain links, sprockets, or attachments to maintain smooth and quiet operation.
3. Proper Tension: Maintaining the correct chain tension is crucial to prevent excessive vibration and noise. Too much tension can lead to increased stress, while too little tension may cause chain slippage and impact noise.
4. Quality and Design: Select high-quality mill chains designed for the specific application. Chains with precision engineering and anti-vibration features can help reduce noise and vibration levels.
Overall, managing noise and vibration in mill chain systems is essential for optimizing performance, reducing maintenance costs, and ensuring a safer working environment.



editor by CX 2023-08-30