Product Description
CHINAMFG rollers enhance rotation on the bushing while reducing impact loads on the sprocket tooth during operation.
All components are heat treated to achieve maximum strength.
Pre-loaded during the manufacturing process to minimize initial elongation.
Hot dipped lubrication ensures 100% lubrication of all chain components to extend wear life and reduce maintenance costs.
CHAIN
NO.
PITCH
BUSH
WIDTH
ROLLER
DIA
PIN
PLATE
DIMENSION OF ATTACHMENT
MIN.
TENSILE
STRENGTH
d
L
h
T
mm
mm
mm
mm
mm
mm
mm
H
d3
E
F
kgf
NSE200
100.00
51.80
44.50
19.10
111.50
60.00
10.00
150.00
18.00
100.00
105.00
420
NSE300
100.00
57.60
48.50
22.23
120.00
75.00
7.50
150.00
18.00
100.00
105.00
520
NSE400
125.00
67.40
63.50
31.75
139.30
90.00
12.00
180.00
18.00
125.00
130.00
735
NSE500-1
125.00
75.00
70.00
35.00
170.00
100.00
16.00
180.00
18.00
125.00
130.00
980
NSE500-2
125.00
75.00
71.50
36.00
165.00
102.00
16.00
180.00
18.00
125.00
130.00
1200
NSE600H
125.00
75.00
75.00
40.00
165.00
105.00
16.00
185.00
18.00
125.00
136.00
1260
NSE700
150.00
85.00
85.00
48.00
180.00
125.00
16.00
226.00
22.00
150.00
165.00
1470
| | |
| --- | --- |
| Usage: | Transmission Chain, Conveyor Chain, Dedicated Special Chain |
| Material: | Alloy/Carbon Steel |
| Surface Treatment: | Polishing |
| Feature: | Heat Resistant |
| Chain Size: | 2 3/4"*3" |
| Structure: | Roller Chain |
Samples:

US$ 10/Meter

1 Meter(Min.Order)

|
Request Sample
Customization:

Available

|

Customized Request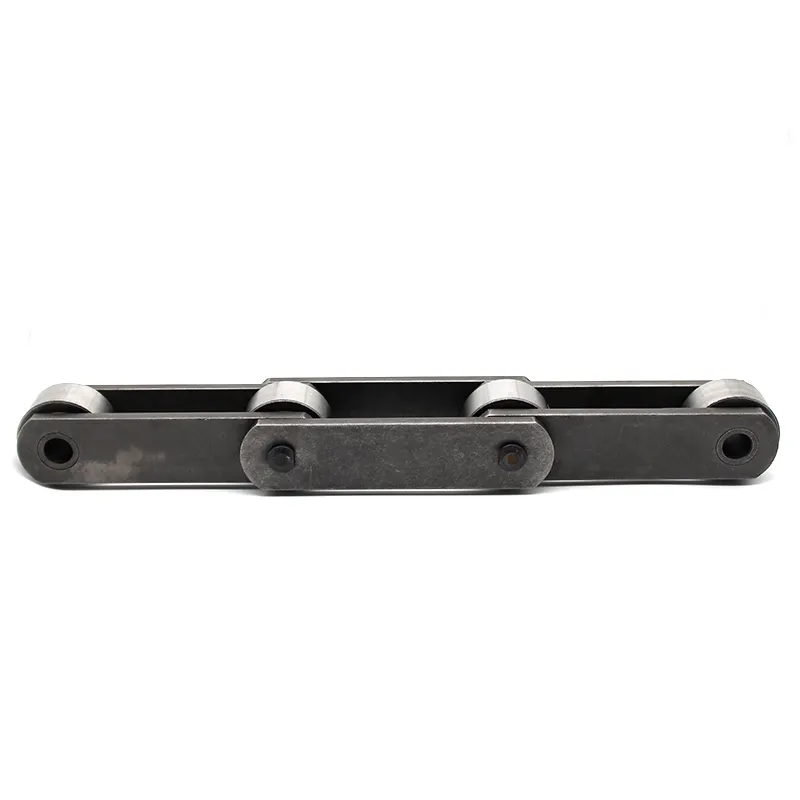 What are the environmental considerations when using mill chains?
When using mill chains in industrial applications, several environmental considerations should be taken into account. These factors are important for sustainable and eco-friendly operations. Here are the key environmental considerations:
1. Lubrication: Proper lubrication of mill chains is essential for reducing friction and wear, which can lead to chain failure and increased energy consumption. Using environmentally friendly lubricants can minimize the impact on the environment.
2. Noise and Vibration: Excessive noise and vibration from chains can negatively impact the surrounding environment and workers' well-being. Choosing chains with low noise and vibration characteristics can help maintain a more pleasant and safe working environment.
3. Material Selection: Opting for chains made from materials with low environmental impact, such as recycled or sustainable materials, can contribute to eco-friendliness.
4. Chain Recycling and Disposal: Implementing proper chain recycling and disposal practices ensures that end-of-life chains are managed in an environmentally responsible manner.
5. Chain Maintenance: Regular maintenance of mill chains is crucial to prevent premature wear and reduce the likelihood of environmental contamination from chain breakages.
6. Energy Efficiency: Selecting energy-efficient chain designs and maintaining proper tension can lead to reduced energy consumption and lower greenhouse gas emissions.
7. Preventing Chain Contamination: Keeping chains clean and free from debris can prevent potential environmental pollution when used in applications handling sensitive materials.
8. Compliance with Regulations: Adhering to environmental regulations and standards is essential to minimize the impact of chain usage on the environment.
9. Environmental Certification: Some chain manufacturers offer products with environmental certifications or comply with international standards for sustainability, providing assurance of eco-friendly practices.
10. Application-Specific Considerations: Different industries and applications may have unique environmental challenges. Considering these specific factors when selecting and using mill chains is vital.
By taking these environmental considerations into account, industries can work towards reducing their ecological footprint and contributing to more sustainable practices in their chain usage.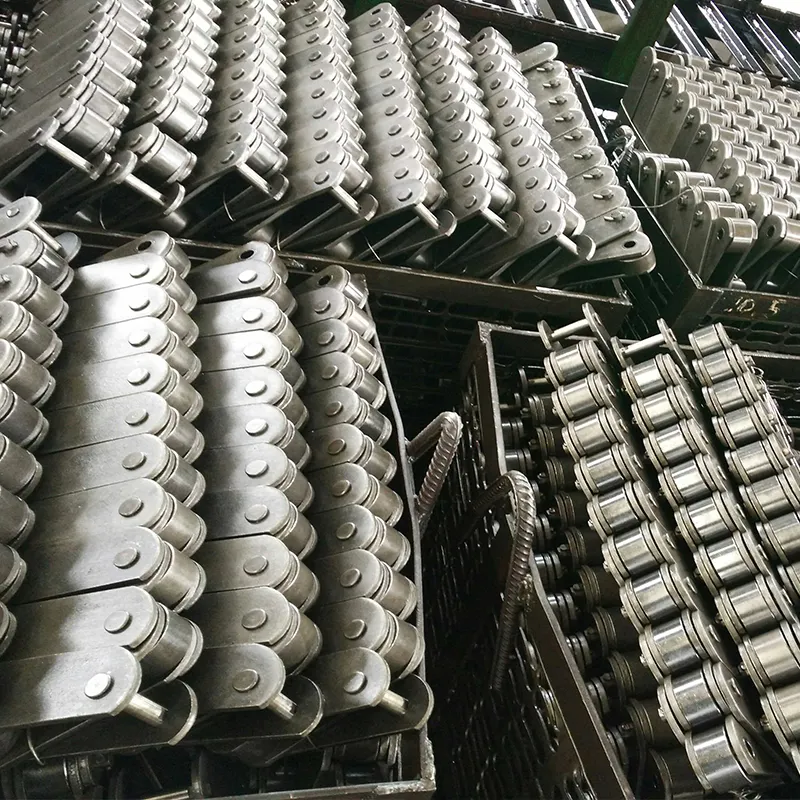 Can mill chains be used in material handling systems in recycling facilities?
Yes, mill chains can be used in material handling systems in recycling facilities. Recycling facilities often handle various types of materials, and mill chains are versatile and durable enough to handle the demands of recycling operations. Here's how mill chains are suitable for material handling in recycling facilities:
1. Strength and Durability: Mill chains are designed to withstand heavy loads and are made from robust materials such as alloy steel, making them suitable for handling bulk materials and recyclables.
2. Versatility: Mill chains are available in different sizes and configurations, making them adaptable to different material handling needs in recycling facilities.
3. Low Maintenance: Mill chains typically require minimal maintenance, reducing downtime and ensuring continuous operation in busy recycling environments.
4. Resistant to Abrasion: In recycling facilities, materials may contain abrasive components. Mill chains are designed to resist abrasion, ensuring longer service life even in harsh conditions.
5. Handling Various Materials: Mill chains can handle a wide range of materials, including metals, plastics, paper, and other recyclables, making them suitable for diverse recycling applications.
6. Efficient Material Transfer: With proper design and installation, mill chains facilitate smooth and efficient material transfer within recycling systems.
7. Customization: Mill chains can be customized to suit specific material handling requirements in recycling facilities, ensuring optimal performance.
8. Environmental Considerations: Some mill chains are available with eco-friendly features, such as using recycled materials or environmentally friendly lubricants, aligning with the sustainability goals of recycling facilities.
Overall, mill chains are a reliable and effective solution for material handling systems in recycling facilities, contributing to the efficient processing of recyclable materials and supporting sustainable waste management practices.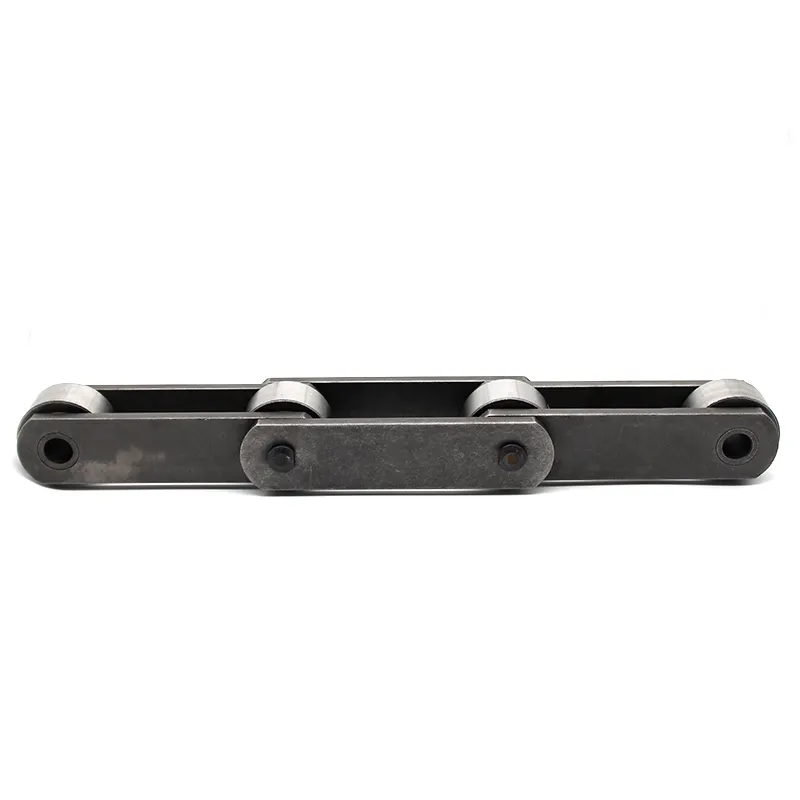 What is a mill chain and how is it used in industrial applications?
Mill chains, also known as conveyor chains or industrial chains, are a type of heavy-duty chain used in various industrial applications. They are designed to convey or move materials in a controlled and efficient manner within industrial processes.
These chains typically consist of a series of interconnected links that form a continuous chain loop. Each link is designed to engage with sprockets, which provide the driving force to move the chain and the attached materials.
Mill chains are commonly used in industries such as:
Steel Production: In steel mills, mill chains are used to transport raw materials, such as iron ore, coal, and limestone, to various processing stations.
Lumber and Paper Industries: Mill chains are utilized to convey logs, wood chips, and paper rolls in sawmills and paper mills.
Cement Plants: These chains are used to transport materials like limestone, gypsum, and clinker in cement manufacturing.
Grain Handling: In grain elevators and agricultural facilities, mill chains are used to move bulk grains and seeds.
Mining: Mill chains are used in mining operations to transport minerals and ores.
Automotive Manufacturing: These chains are used in assembly line processes for automotive production.
Bottling and Packaging: Mill chains are used to move products through bottling and packaging lines.
One of the essential features of mill chains is their robust construction, which allows them to handle heavy loads and endure harsh environments. They are often made from durable materials, such as carbon steel or stainless steel, to resist wear, corrosion, and other forms of damage.
Mill chains play a vital role in streamlining industrial processes, increasing productivity, and ensuring the efficient movement of materials throughout various stages of production. Proper maintenance and lubrication are necessary to extend the life and performance of mill chains in demanding industrial applications.



editor by CX 2023-09-23