Product Description
WH series WH78 WH188 WH124 WH106 WH111 WH132 WH150 WH155 WH159 Hard Soft Bend Welded Mill Chain
Product Description
Offset mill chains are available for carbon and stainless steel. Welded steel mill stage chains are recommended for most conveying, driving and lifting applications, where high strength steel, roller-free chains are required. These chains will operate the same sprockets as their casting counterparts. The complete accessory line and optional heat treatment make them easily adaptable to a wide range of applications. • Use automatic welding Make sure the welding is in the same position as the barrel • Carbon steel chains have heat treated pins, barrels and sidebars • Stainless steel series with heat treatment barrels and pins • Induction hardening needles are available in the WHX series
CHAIN NO.

PITCH

Bend Style

AVERAGE ULTIMATE STRENGTH
LBS.

RATED WORKING LOAD
LBS.

APPROX. LINKS IN 10 FEET

AVERAGE WEIGHT PER FOOT

OVERALL WIDTH JK

WH188

2.609

2

30,000

2,850

46

3.8

2.69

WH78

2.609

2

30,000

3,500

46

4.0

3.00

WH78-4

4.000

2

30,000

3,500

30

4.0

3.00

WH82

3.075

2

36,000

4,400

39

4.8

3.25

WH124 *

4.000

1, 2

69,000

7,200

30

8.3

4.25

WH124 HD

4.063

2

100,000

10,500

30

14.7

4.75

WH111

4.760

1

91,000

8,850

26

9.5

4.88

WH106

6.000

1

69,000

7,200

20

7.0

4.25

WH106 HD

6.000

1

92,500

7,875

20

9.0

4.75

WH106 XHD

6.050

1

100,000

10,500

20

11.8

4.88

WH110

6.000

1

69,000

7,875

20

7.2

4.62

WH132

6.050

1

115,000

15,300

20

14.2

6.25

WH132 HD

6.050

1

139,500

16,200

20

16.4

6.75

WH150

6.050

1

116,000

15,300

20

16.8

6.25

WH150 HD

6.050

1

168,000

16,200

20

19.3

6.75

WH150 XHD

6.050

1

161,000

18,200

20

19.7

6.75

WH155

6.050

1

145,000

17,750

20

20.0

6.50

WH159

6.125

2

230,000

20,250

20

28.0

6.97
* Both bend profiles are available. Please specify if you prefer 1 style over the other. WHX Series also available with induction hardened pins.
STAINLESS STEEL WELDED MILL CLASS CHAIN
Our standard stainless steel chains in this class are designed with 316 grade sidebars and specialty heat treat 17-4 barrels and pins.
Chain NO.

PITCH

Bend Style

AVERAGE ULTIMATE STRENGTH
LBS

RATED WORKING LOAD
LBS.

APPROX. LINKS IN 10 FEET

AVERAGE WEIGHT PER FOOT

OVERALL WIDTH JK

LENGTH OF BEARING
X

WH78 *

2.609

2

11,600

2,300

46

4.0

3.00

2.00

WH82

3.075

2

13,000

2,600

39

4.8

3.25

2.25

WH124

4.000

1,2

21,400

4,250

30

8.3

4.25

2.75

WH106

6.000

1

38,000

7,600

20

7.0

4.25

2.75

WH132

6.050

1

38,000

7,600

20

14.2

6.25

4.38

WH150

6.050

1

56,400

11,200

20

16.8

6.25

4.38

WH155

6.050

1

52,100

10,400

20

20.0

6.50

4.50
Company Profile
The company has advanced manufacturing technology and relatively strong manufacturing force, and high-end precision testing instruments to ensure that every chain leaving the factory is qualified. The company mainly deals in: transmission chain, transmission chain, lifting chain, agricultural machinery chain, stainless steel chain, etc. Various non-standard chains are ordered separately. The company uses more than 600 kinds of non-standard molds. It can be customized according to drawings. We implement all-round management and control over product quality and service, and constantly improve customer satisfaction. The chain produced by the company enjoys a certain reputation in the world with its high quality, good reputation and high-quality service.
Related products
The chain types are divided into engineering chain, conveying chain, plate chain, transmission chain, escalator chain, parking equipment chain, agricultural chain, stainless steel chain, etc. There are different types of chains with different purposes, specifications, models and styles. 
Plate chain type Plate chain is usually used to lift goods. For example, forklift, lifting machinery and equipment. Plate chain has no rollers, but chain plates are connected with each other. It is a kind of chain used for loading. Different types of plate chains have different functions,
Stainless steel chain Stainless steel chain types include standard stainless steel chain, stainless steel hollow pin chain, stainless steel chain used for environmental protection equipment, etc,
 
Type of transmission chain Many types of transmission chains are power transmission chains, such as precision roller chains, double pitch roller chains, high-strength short pitch precision roller chains, petroleum chains, pumping unit chains, self-lubricating roller chains, side bending (turning machine) chains, corrosion resistant chains, etc
There are many types of escalator chains, including escalator step chains, heavy-duty high gradient escalator step chains, travelator chains, and escalator chains of different specifications and models,

 

The engineering chain includes many kinds of chains, such as cement bucket elevators, environmental protection equipment, pavers, trenchers, welding equipment, mining, power plant dust removal and other equipment.
 
Agricultural machinery chain Agricultural machinery chain is a chain developed and produced according to the characteristics of different crops, including rice harvester chain, GS38 combine chain, corn harvester chain, citrus straw harvester chain, soybean harvester chain, peanut harvesting chain, garlic sowing chain, and potato planter chain.
There are many types of conveying chains, such as wood conveying chain, double speed chain, RF conveying chain, sharp tooth chain, sugar chain, brown oil chain, F chain, metric conveying chain, top roller conveying chain, grain scraper, hollow pin, suspension conveying, etc. The conveying chain is a power chain for transporting goods.
Parking equipment chain This type of chain includes roller chains for parking equipment, chains for vertical circulation parking equipment, and parking equipment chains that can be developed according to demand.
 
We not only produce chains and transmissions, including gear boxes, sprockets, gears, racks, couplings and other products, but also supply them to meet your one-stop purchase. Welcome to consult us
Packaging & Shipping
Certifications
| | |
| --- | --- |
| Usage: | Transmission Chain, Drag Chain, Conveyor Chain, Dedicated Special Chain |
| Material: | Stainless steel |
| Surface Treatment: | Oil Blooming |
| Feature: | Oil Resistant |
| Chain Size: | 1/2"*3/32" |
| Structure: | Roller Chain |
Samples:

US$ 9999/Piece

1 Piece(Min.Order)

|
Request Sample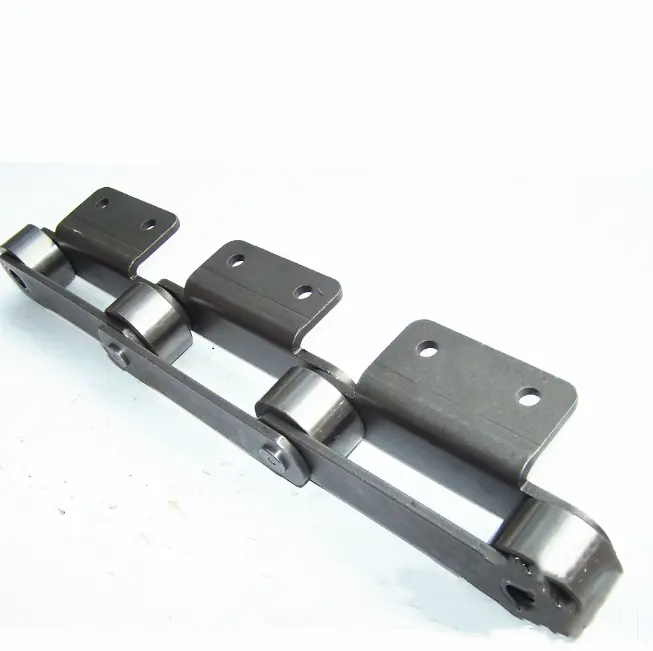 How do mill chains handle material flow and transfer in bulk handling applications?
Mill chains are specifically designed to handle material flow and transfer in bulk handling applications with efficiency and reliability. These chains are widely used in various industries, such as agriculture, mining, construction, and more, where bulk materials need to be transported in large quantities. Here's how mill chains achieve material flow and transfer:
1. Robust Construction: Mill chains are constructed using high-quality materials, such as alloy steel, which provides excellent strength and durability. Their robust design allows them to handle heavy loads and withstand the stresses of continuous material transfer.
2. Precise Alignment: The design of mill chains ensures precise alignment between the chain and sprockets. This alignment helps to maintain a smooth and consistent material flow, reducing the risk of jams or blockages in the system.
3. Flexibility: Mill chains are flexible enough to adapt to various conveyor configurations, including inclined or declined conveyors. This flexibility enables them to efficiently transport materials across different terrains and elevations.
4. Low Friction: Mill chains are designed to minimize friction during operation. This low friction characteristic reduces the energy consumption and wear on the chain, resulting in a longer service life and improved material transfer efficiency.
5. Adaptability: Mill chains are suitable for handling a wide range of bulk materials, including grains, aggregates, ores, coal, wood chips, and more. Their adaptability makes them a versatile choice for different industries.
6. Conveyor Systems: In bulk handling applications, mill chains are commonly used in conveyor systems. These systems utilize rotating sprockets to move the chain, and the material is carried along the conveyor's path, ensuring a continuous flow of materials from one point to another.
7. Bucket Elevators: Mill chains are often employed in bucket elevators, which lift and transfer bulk materials vertically. The buckets attached to the chain scoop up the material and discharge it at the desired location, providing an efficient material handling solution.
Overall, mill chains are essential components in bulk handling applications, ensuring the smooth and consistent flow of materials in various industrial processes. Their reliable performance, strength, and adaptability make them a preferred choice for material transfer in many industries.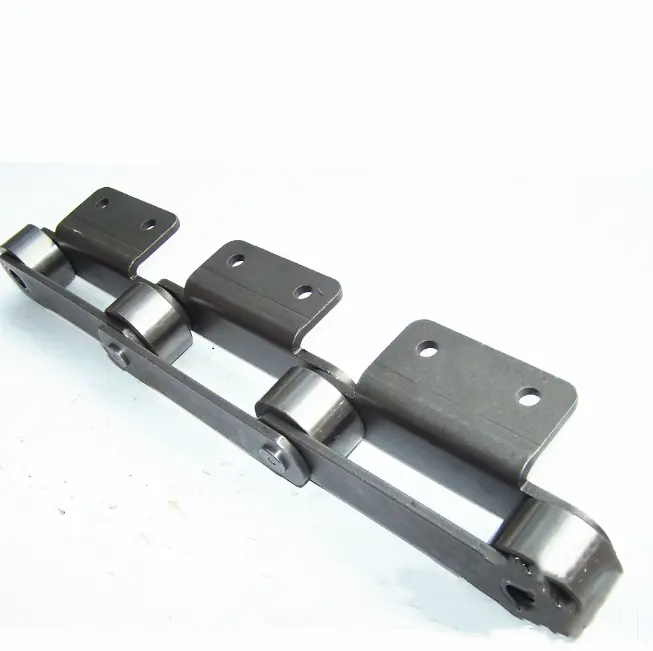 Can mill chains be used in the plastics and rubber processing industry?
Yes, mill chains can be used in the plastics and rubber processing industry for various material handling applications. The plastics and rubber processing industry involves the production of a wide range of products made from plastic and rubber materials, such as bottles, containers, pipes, hoses, tires, and more. Mill chains are well-suited for handling and conveying these materials during different stages of the manufacturing process.
The plastics and rubber processing industry often requires heavy-duty and reliable material handling systems to move, transport, and process raw materials and finished products. Mill chains are capable of handling heavy loads and can withstand the rigorous demands of continuous operation in such industrial settings.
Key applications of mill chains in the plastics and rubber processing industry include:
Material Conveying: Mill chains are used to transport raw materials, additives, and finished products from one process to another along the production line.
Mixing and Blending: In the rubber processing sector, mill chains can be used in the mixing and blending process to combine different ingredients and create rubber compounds.
Extrusion: Mill chains are employed in extrusion processes where plastic or rubber materials are forced through a die to create various shapes and forms.
Molding and Forming: For plastics, mill chains are utilized in injection molding and other forming processes to produce products of specific shapes and sizes.
Curing and Cooling: Mill chains are also involved in the curing and cooling stages of rubber processing to achieve the desired properties and final product characteristics.
The selection of the appropriate mill chain for the plastics and rubber processing industry depends on factors such as the type of material being handled, the weight and size of the products, the operating environment, and the specific requirements of the material handling process. Properly chosen and well-maintained mill chains contribute to the efficiency, reliability, and productivity of the plastics and rubber processing industry.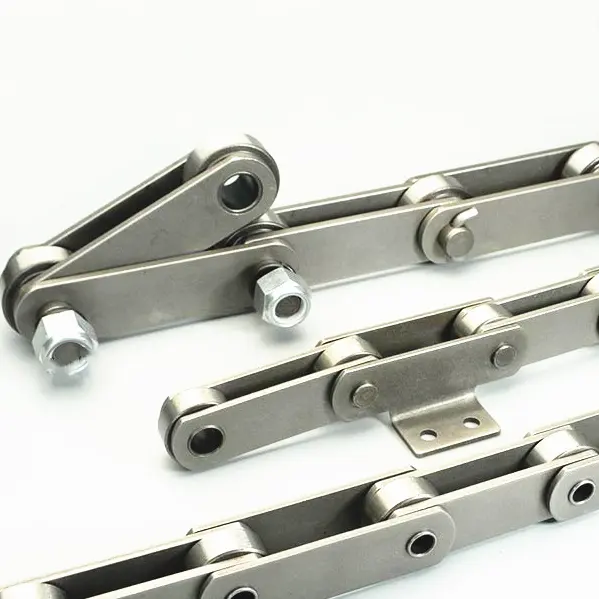 Can mill chains be used in high-temperature environments, such as in steel mills?
Yes, mill chains can be used in high-temperature environments, including steel mills, as long as they are made from materials capable of withstanding elevated temperatures. When operating in such conditions, it is essential to select mill chains that are specifically designed for high-temperature applications. Here are some key points to consider:
1. Material Selection:
Choose mill chains made from heat-resistant materials such as alloy steel, stainless steel, or other special alloys that can endure high temperatures without losing their structural integrity.
2. Heat Treatment:
Some mill chains undergo heat treatment processes to enhance their strength and resistance to elevated temperatures. Look for chains with heat treatment if your application involves extreme heat.
3. Lubrication:
In high-temperature environments, conventional lubricants may not perform well. Consider using specialized high-temperature lubricants that can withstand the heat and maintain chain performance.
4. Chain Design:
Ensure the mill chain's design and construction are suitable for the intended high-temperature application. The chain should be able to handle thermal expansion and maintain proper articulation even under elevated temperatures.
5. Consult with Manufacturers:
If you are unsure about the suitable mill chain for high-temperature environments, consult with chain manufacturers or experts who have experience with such applications. They can provide guidance and recommend the appropriate chain based on your specific needs.
6. Regular Maintenance:
In high-temperature settings, the mill chains may experience more wear and stress. Implement a regular maintenance schedule to inspect and lubricate the chains, ensuring their optimal performance and longevity.
Overall, selecting the right mill chain designed for high-temperature environments is crucial to ensure safe and efficient operation in steel mills and other industries where elevated temperatures are present.



editor by CX 2023-08-09