Product Description
A, B series roller chain
SPECIFICATION:
1)A series chains:
A. Simplex: 25-1~240-1
B. Duplex: 25-2~240-2
C. Triplex: 25-3~240-3
D. Quadruplex: 40-4~240-4
E. Quintuple: 40-5~240-5
F. Sextuple: 40-6~240-6
G. Octuple: 40-8~240-8
2)B series chains:
A. Simplex: 04B-1~48B-1
B. Duplex: 04B-2~48B-2
C. Triplex: 06B-3~48B-3
D. Quadruplex: 08B-4~48B-4
E. Quintuple: 08B-5~48B-5
F. Sextuple: 08B-6~48B-6
G. Octuple: 08B-8~48B-8
3)Colors available: Natural, yellow, blue, black
4)Materiials: Carbon steel, stainless steel
| | |
| --- | --- |
| Usage: | Transmission Chain, Drag Chain, Conveyor Chain, Dedicated Special Chain |
| Material: | Alloy |
| Surface Treatment: | Polishing |
| Feature: | Heat Resistant |
| Chain Size: | 1/2"*11/128" |
| Structure: | Roller Chain |
Samples:

US$ 0/Meter

1 Meter(Min.Order)

|
Request Sample
Customization:

Available

|

Customized Request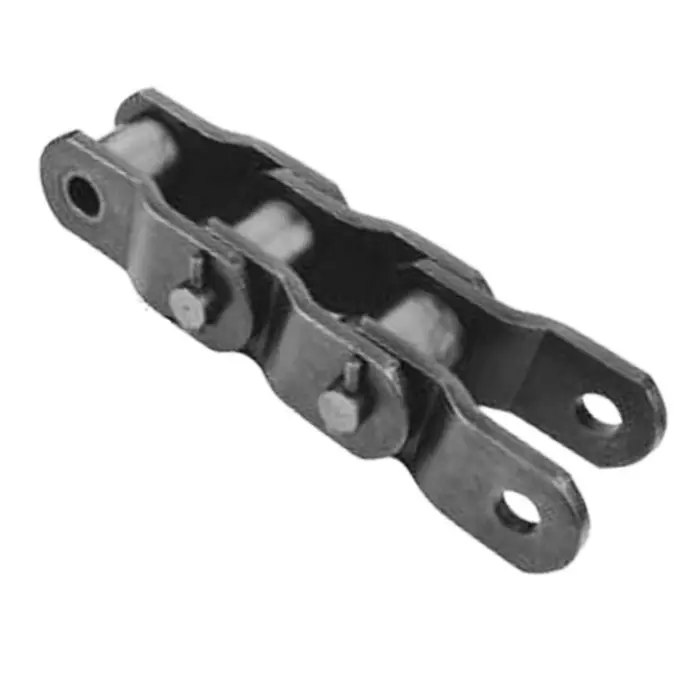 Can mill chains be used in the forestry and timber processing industry?
Yes, mill chains are commonly used in the forestry and timber processing industry for various applications. These chains are well-suited to handle the demanding and rugged conditions encountered in this sector. Here are the details of how mill chains are utilized in the forestry and timber processing industry:
1. Timber Handling: Mill chains are used in conveyor systems to transport timber and logs from one processing stage to another. They can handle heavy loads and provide reliable material transfer, making them essential for efficient timber handling operations.
2. Sawmills: In sawmills, mill chains are utilized in sawing equipment and lumber processing machinery. They help feed the logs and lumber through the cutting and processing equipment, ensuring a smooth and continuous operation.
3. Debarking Machines: Mill chains are employed in debarking machines, which remove the bark from the logs before further processing. These chains withstand the abrasive effects of the bark and debris, maintaining their performance and longevity.
4. Chipper Machines: Mill chains are used in chipper machines that convert wood waste and by-products into wood chips or biofuel. These chains efficiently convey the wood materials through the chipping process.
5. Conveying and Sorting: Mill chains are integral components of conveyor systems used for sorting and transporting timber products. They ensure smooth and controlled material flow, optimizing production efficiency.
6. High Strength and Durability: Mill chains are designed to withstand heavy loads, shock loads, and abrasive conditions. This high strength and durability make them suitable for the demanding environments of the forestry and timber processing industry.
7. Customization: Chains can be customized to fit specific equipment and applications, allowing for optimal performance and precise material handling.
8. Reduced Maintenance: Mill chains are engineered to require minimal maintenance, reducing downtime and increasing overall productivity in timber processing operations.
9. Corrosion Resistance: In outdoor environments and in contact with wood, moisture, and other elements, corrosion-resistant mill chains are available, providing extended service life and preventing chain deterioration.
10. Environmental Considerations: Timber processing industries often operate in natural habitats. Using mill chains with low environmental impact, such as those with reduced noise and vibration, can be beneficial for the surrounding ecosystem.
Overall, mill chains are essential components in the forestry and timber processing industry, facilitating the efficient and reliable handling, cutting, and processing of wood materials at various stages of production.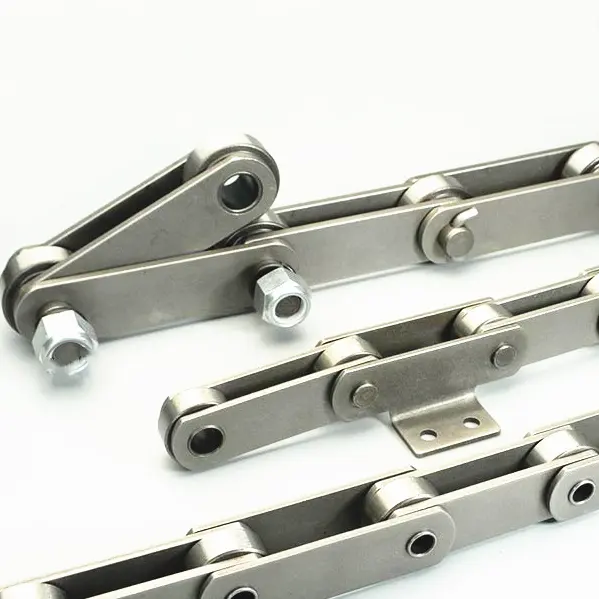 What are the factors to consider when selecting a mill chain for specific material handling needs?
When choosing a mill chain for specific material handling needs, several factors should be taken into consideration to ensure optimal performance and efficiency:
Load Capacity: Determine the maximum load that the mill chain will need to handle in the material handling application. Select a chain that has a sufficient load capacity to support the weight of the conveyed materials or products.
Speed: Consider the speed at which the chain will need to operate. Choose a mill chain that can handle the required speed without compromising on performance or safety.
Environment: Assess the operating environment for the mill chain. Consider factors such as temperature, humidity, presence of chemicals, and potential exposure to corrosive substances. Select a chain material and coating that can withstand the specific environmental conditions.
Corrosion Resistance: If the mill chain will be used in a corrosive environment, opt for a chain with corrosion-resistant materials or coatings to prevent premature wear and damage.
Alignment and Tolerance: Ensure that the chain's alignment and tolerance are suitable for the conveyor system or material handling equipment. Proper alignment will reduce wear and increase the chain's longevity.
Maintenance: Consider the maintenance requirements of the mill chain. Some chains may require more frequent maintenance, while others are designed for longer intervals between servicing.
Chain Type: Evaluate the different types of mill chains available, such as standard roller chains, double-pitch chains, attachment chains, or specialty chains. Choose the one that best suits the material handling application.
Compatibility: Ensure that the selected mill chain is compatible with the sprockets, attachments, and other components of the material handling system.
Cost: Compare the cost of different mill chain options while considering the overall value and performance they offer for the specific material handling needs.
By carefully considering these factors, you can select the most appropriate mill chain for the material handling application, ensuring smooth and reliable operation, reduced downtime, and extended chain life.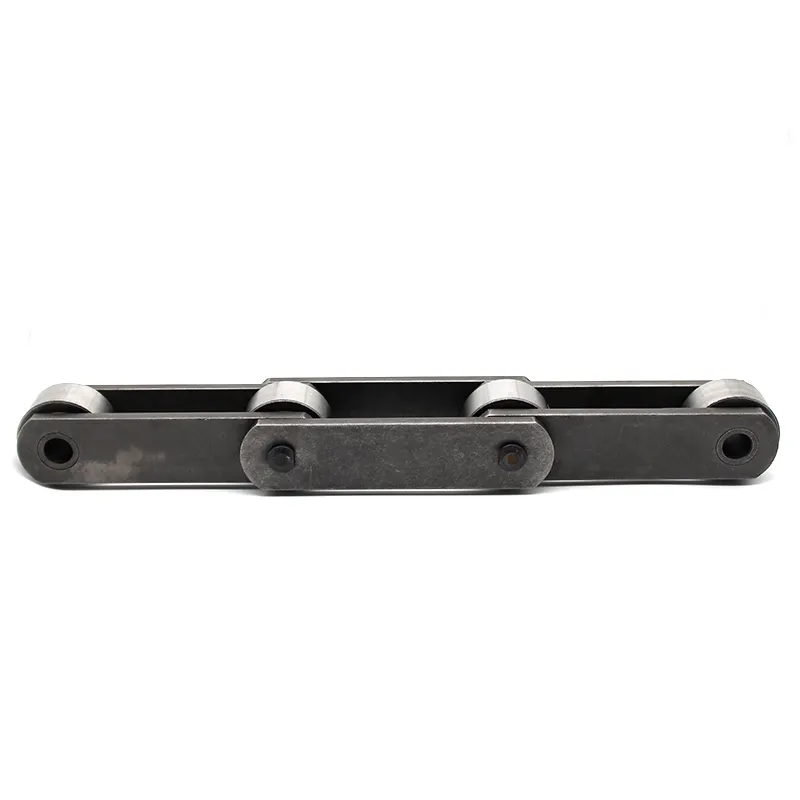 How do mill chains perform in dusty or dirty environments, such as in sawmills?
Mill chains are designed to perform well in dusty and dirty environments, making them suitable for use in sawmills and other similar applications. Here's how mill chains handle such conditions:
1. Dust and Debris Resistance: Mill chains are constructed with durable materials and precision manufacturing to minimize the impact of dust and debris. They have sealed joints and tight clearances between components, reducing the chances of contaminants entering the chain's interior. This design helps to maintain smooth operation and prevent premature wear and failure caused by abrasive particles.
2. Lubrication: Proper lubrication is essential for mill chains operating in dusty environments. Lubricants not only reduce friction and wear but also act as a barrier against dust and dirt, preventing them from settling on the chain's surfaces. Lubrication also helps to protect the chain from corrosion, which can be a concern in some dusty environments.
3. Regular Maintenance: Keeping the mill chains clean and well-maintained is crucial for their performance in dusty or dirty environments. Regular cleaning and inspection can help remove accumulated debris and identify any signs of wear or damage that may require attention. Chains should be periodically lubricated and adjusted to ensure optimal performance.
4. Chain Selection: Choosing the right type of mill chain for the specific conditions in a sawmill is essential. There are various chain designs and materials available, each suited to different environments. Chains with protective coatings or materials that resist dust and debris can be particularly beneficial in sawmill applications.
Overall, mill chains are designed to be reliable and robust, making them well-suited for demanding environments like sawmills. Proper maintenance and chain selection can further enhance their performance and longevity in these conditions.



editor by CX 2023-10-11