Product Description
Product Description
1, Our Chain types: Agricultural roller chain, hollow pin conveyor chain, sugar industry chain, cane feeder and washing table chain, welded steel chain, bakery industry chain, weld steel drag chains,coil conveyor chain, palm oil chain etc;
2, Main materials: It is 40Mn. 40Cr, 45Mn alloy steel, SUS304, and POM Plastic for plates, 10#, 20#, 20CrMnMo, 30CrMnTi for pins and rollers;
3, Heat treatment: Carburizing, Austemper Stressing, nitro-caburizing harden etc;
4, Surface: Shot peening, black, blue or original;
Detailed Photos
For example of WH78, WH82, WH124, WH111, WH106, WH110, WH132, WH150, WH155
Product Parameters
Packaging & Shipping
plastic bag+carton+ OSB Case
Shipping way: these products will be shipped to your local port by sea, these also could be sent to your specific address by air.
Our Advantages
Our chains could be customized according to your actual order quantity, actual drawing and actual requirement. We have own chain process workshop, heat treatment workshop, process equipments and experienced designers.
(01)Assembled workshop
(02)Punching plate workshop
(03)Plate fabrication workshop
(04)Heat treatment workshop
(05)Shot peening workshop
(06) our warehouse
After Sales Service
Our products can be repaired or replaced the new parts with free cost in six months. 
| | |
| --- | --- |
| Material: | Alloy |
| Structure: | Welded Chain |
| Surface Treatment: | Carburizing and Quenching |
| Chain Size: | 153.67mm |
| Feature: | Heat Resistant |
| Bush Diameter on Inner Link: | 44.50mm |
Customization:

Available

|

Customized Request
Can mill chains be used for power transmission in industrial machinery?
Yes, mill chains can be used for power transmission in various industrial machinery applications. While they are commonly known for their use in material handling systems, mill chains also exhibit qualities that make them suitable for power transmission purposes. Here are some key points to consider:
Power Transmission Capability:
1. High Strength: Mill chains are designed to handle heavy loads and high-capacity material transfer, making them capable of transmitting significant power in industrial machinery.
2. Robust Construction: These chains are built with durable materials and precision engineering to withstand the stresses of power transmission, ensuring reliable operation over extended periods.
3. Uniform Load Distribution: Mill chains distribute the transmitted power evenly across their links and components, reducing the risk of premature wear or failure.
Applications in Industrial Machinery:
1. Conveyors: Mill chains can be used in conveyor systems to power the movement of materials or products along the production line. They are especially suitable for heavy-duty and continuous operation.
2. Elevators and Lifts: Mill chains are employed in vertical conveying systems, such as bucket elevators or lift mechanisms, where power needs to be transmitted efficiently and reliably.
3. Mechanical Drives: In certain industrial machinery, mill chains can be used in mechanical drives to transfer power from one component to another, such as in gear systems or chain drives.
4. Assembly Lines: Mill chains can play a role in power transmission for automated assembly lines, enabling smooth and synchronized movement of components during the manufacturing process.
Benefits:
1. Cost-Effective: Mill chains offer a cost-effective solution for power transmission compared to other types of power transmission systems.
2. Reliability: With proper maintenance, mill chains can provide reliable power transmission, contributing to the efficiency of industrial machinery.
3. Adaptability: Mill chains are available in various sizes and configurations, making them adaptable to different industrial applications.
Overall, mill chains can be a viable option for power transmission in industrial machinery, especially in applications that require heavy-duty, high-strength, and reliable power transfer capabilities.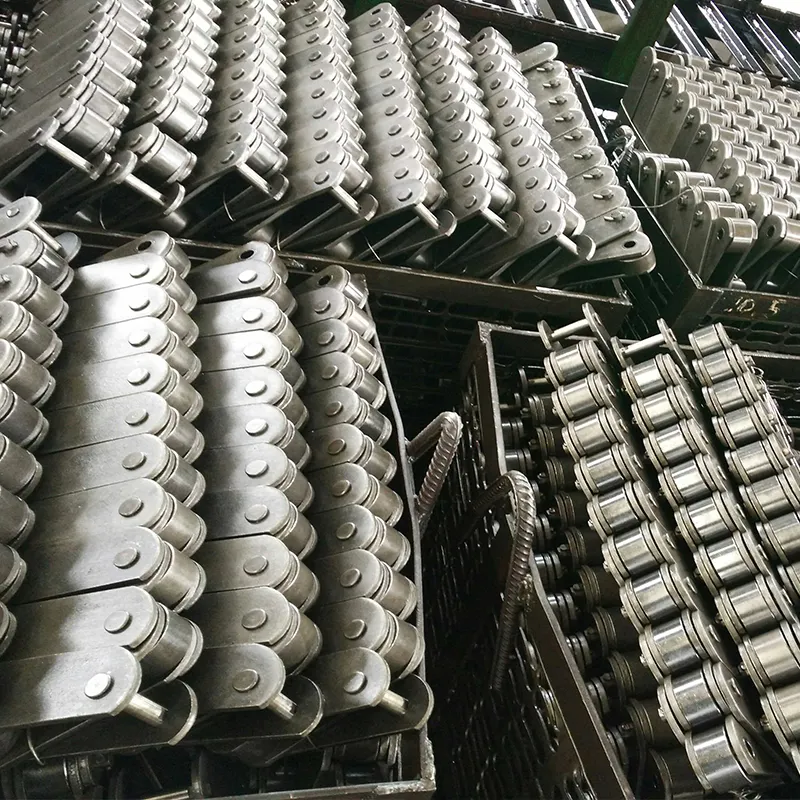 Can mill chains be used in the energy and power generation sector?
Yes, mill chains can be used in the energy and power generation sector for various applications. They play a crucial role in material handling and conveying processes, supporting the efficient operation of power plants and other energy facilities. Here's how mill chains are utilized in this sector:
Coal Handling: In coal-fired power plants, mill chains are commonly used in the coal handling system. They transport coal from storage yards or silos to the coal crushers, and then to the boiler for combustion.
Biomass Handling: For power plants that use biomass as a renewable energy source, mill chains are employed to handle biomass materials such as wood chips, sawdust, and agricultural residues.
Fly Ash and Bottom Ash Handling: Mill chains are used to transport fly ash and bottom ash, which are byproducts of coal combustion in power plants. They are conveyed to ash ponds or ash disposal systems for proper management.
Waste-to-Energy Plants: Mill chains are used in waste-to-energy plants to handle and transport municipal solid waste for energy recovery processes.
Nuclear Power Plants: Mill chains can be used in nuclear power plants for material handling applications, such as transporting fuel rods or other components within the facility.
Hydropower Plants: Mill chains may be employed in hydropower plants for material handling during maintenance, construction, or repair activities.
Wind Energy: In some wind energy projects, mill chains are used for the handling and conveying of materials during the construction and maintenance of wind turbines.
Mill chains are selected based on the specific requirements of each application, taking into account factors such as material type, temperature, corrosion resistance, and load capacity. Proper chain selection ensures reliable and efficient material transfer in the energy and power generation sector, contributing to the smooth operation of power plants and sustainable energy production.
Can mill chains handle heavy loads and high-capacity material transfer?
Yes, mill chains are specifically designed to handle heavy loads and high-capacity material transfer in various industrial applications. These chains are built to withstand the demands of heavy-duty material handling processes and are commonly used in industries like steel manufacturing, mining, lumber handling, and more. Here's why mill chains are suitable for such tasks:
1. High Tensile Strength: Mill chains are made from high-quality materials, such as carbon steel or stainless steel, which provide them with excellent tensile strength. This allows them to bear heavy loads without deformation or failure.
2. Robust Construction: The design of mill chains includes robust components and attachments that can handle the stress of heavy loads and maintain their integrity during material transfer.
3. Large Pitch Size: Mill chains typically have larger pitch sizes compared to standard roller chains. The larger pitch allows for greater material clearance between chain links, making them suitable for transferring bulky materials and handling large loads.
4. Attachment Options: Mill chains can be customized with various attachments, such as scrapers, pushers, or carrying rollers, to suit the specific requirements of material handling processes. These attachments enhance the efficiency and effectiveness of high-capacity material transfer.
5. Smooth Operation: Despite their ability to handle heavy loads, mill chains are designed for smooth and consistent operation. This ensures that the material transfer process remains stable and reliable, preventing potential disruptions in industrial operations.
6. Resistance to Wear and Corrosion: Mill chains are engineered to resist wear and corrosion, even in harsh and abrasive environments. This extends their service life and ensures reliable performance in demanding applications.
7. Safety Considerations: The design and construction of mill chains prioritize safety during high-capacity material transfer. They are manufactured to meet industry standards and undergo rigorous testing to ensure safe and efficient operation.
Overall, the combination of high tensile strength, robust construction, and versatility makes mill chains well-suited for handling heavy loads and facilitating high-capacity material transfer in various industrial settings. Their reliability and efficiency contribute to smoother and more productive material handling operations in industries dealing with substantial volumes of materials.



editor by CX 2023-10-20