Product Description
Product Description
cold bed chain, Fu Style Chain for Architectural Machine Equipment, welded steel mill chain, welded steel drag chain, cast fixed pin chain, conveyor chai for metallurgy industry, drop forged link chain and Engineer Class Driving Chain, with alloy steel and stainless steel selection according to your requirement
1, Chain types: drop forged rivetless chain, Roller Chain, conveyor chain, agricultural chain, sugar industry chain, palm oil industry chain, asphalt industry chain,elevator conveyor industry chain, double flex chain, pintle chain, weld steel drag chains, malleable chain etc;
2, Main materials: It is 40Mn. 40Cr, 45Mn alloy steel or SUS304 for plates, 10#, 20#, 20CrMnMo, 30CrMnTi for pins and rollers;
3, Heat treatment: Carburizing, Austemper Stressing, nitro-caburizing harden etc;
4, Surface: Shot peening, black, blue or original;
5, Package way: Plastic bag+ carton box+ plywood case
 
Detailed Photos
Pitch
inner width of inner link (b1)
Roller diameter
(d1)
Pin diameter
(d2)
pin length
(L)
Sidebar height
(h2)
sidebar thickness
(T)
height of top chain
 (H2)
Ultimate tensile strength
P
b1(min)
d1(man)
d2(max)
L(min)
h2(max)
T(max)
H2
Q(min)
mm
mm
mm
mm
mm
mm
mm
mm
kN
135
45
50
30
103.5
90
12
120
500
135
45
50
25
100
80
8
150
320
125
40
56
30
176
70
10
120
315
100
40
46
20
148
60
8
80
175
Product Parameters
Packaging & Shipping
1. Inner packing: Poly bag, air bubble bag, carton according to buyer's request.
2. Outer packing: OSB case or pallet.
3. Please remember to leave the correct contact ADDRESS information for delivery.
Company Profile
We are a leading manufacturer of mechanical transmission spare parts, as well as several years 1 of reliable and trustworthy vendors. Our main items are roller chain, conveyor chain, agricultural chain, sugar industry chain, palm oil industry chain, asphalt industry chain,elevator conveyor industry chain etc.
At present, For South American, European, and Asian market, our superior products are fabricated according to your requirement and our quality meets ISO, ASME, DIN standard.
Please watch our process steps as below
(1) punch its outer plate and inner plates
(2)Shot peening workshop
(3) heat treatment workshop
(4) assembly preparation
(5) pins process
(6) Tensile Properties Test before shipment
After Sales Service
Our products can be repaired or replaced the new parts with free cost in six months.
FAQ
Question:
1.Q:How about mould cost?
A: primarily depend on : 1.Drawing, 2.material, 3.weight and quantity.
We need to know the structure of each parts to analyze the mold solution by:
1) –Complete design drawing, product model or actual sample —– the best way
–PDF drawing with complete dimension for each parts
–Clearly photos for each parts with more angle-views to show every features.
2)The materials, technical parameters and surface treatments.
technical parameters: tell us about its model, pitch, roller diameter, width between inner plates, attachment type, outside drawing etc.
3)The quantity of order.
2.Q:How to control the product processing?
A: The processing report or pictures will be sent to the customer every week/ each month for review.
3.Q:Who will own the mould?
A:Customer, also the mould can be kept in our factory for future order.
4.Q:How long do you make your quotation?
A:After receiving detail informations we will quote in 1 to 3 days.
5.Q: MOQ? —
small chain type: if its pitch is less than 38.10mm and its thickness is less than 5mm, MOQ is 1500 CZPT on these roller chains or conveyor chains;
middle chain type: if its pitch belongs (38.10mm
big chain type: if its pitch is more than 76.20mm and its thickness is more than 10mm, MOQ is 200 CZPT on these roller chains or conveyor chains;
I hope we can do business together, and look CZPT to hearing from you soon
 
| | |
| --- | --- |
| Material: | Alloy |
| Structure: | Welded Chain |
| Surface Treatment: | Polishing |
| Feature: | Heat Resistant |
| Roller Diameter: | 36.53 mm |
| Pitch: | 79.38 mm |
Samples:

US$ 208/Meter

1 Meter(Min.Order)

|
Request Sample
Customization:

Available

|

Customized Request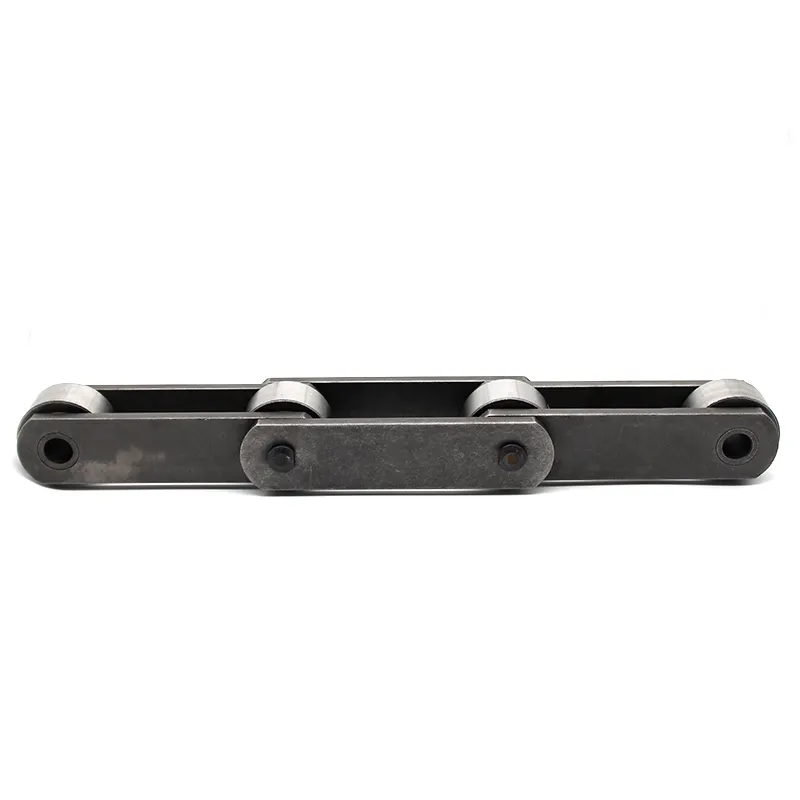 What are the environmental considerations when using mill chains?
When using mill chains in industrial applications, several environmental considerations should be taken into account. These factors are important for sustainable and eco-friendly operations. Here are the key environmental considerations:
1. Lubrication: Proper lubrication of mill chains is essential for reducing friction and wear, which can lead to chain failure and increased energy consumption. Using environmentally friendly lubricants can minimize the impact on the environment.
2. Noise and Vibration: Excessive noise and vibration from chains can negatively impact the surrounding environment and workers' well-being. Choosing chains with low noise and vibration characteristics can help maintain a more pleasant and safe working environment.
3. Material Selection: Opting for chains made from materials with low environmental impact, such as recycled or sustainable materials, can contribute to eco-friendliness.
4. Chain Recycling and Disposal: Implementing proper chain recycling and disposal practices ensures that end-of-life chains are managed in an environmentally responsible manner.
5. Chain Maintenance: Regular maintenance of mill chains is crucial to prevent premature wear and reduce the likelihood of environmental contamination from chain breakages.
6. Energy Efficiency: Selecting energy-efficient chain designs and maintaining proper tension can lead to reduced energy consumption and lower greenhouse gas emissions.
7. Preventing Chain Contamination: Keeping chains clean and free from debris can prevent potential environmental pollution when used in applications handling sensitive materials.
8. Compliance with Regulations: Adhering to environmental regulations and standards is essential to minimize the impact of chain usage on the environment.
9. Environmental Certification: Some chain manufacturers offer products with environmental certifications or comply with international standards for sustainability, providing assurance of eco-friendly practices.
10. Application-Specific Considerations: Different industries and applications may have unique environmental challenges. Considering these specific factors when selecting and using mill chains is vital.
By taking these environmental considerations into account, industries can work towards reducing their ecological footprint and contributing to more sustainable practices in their chain usage.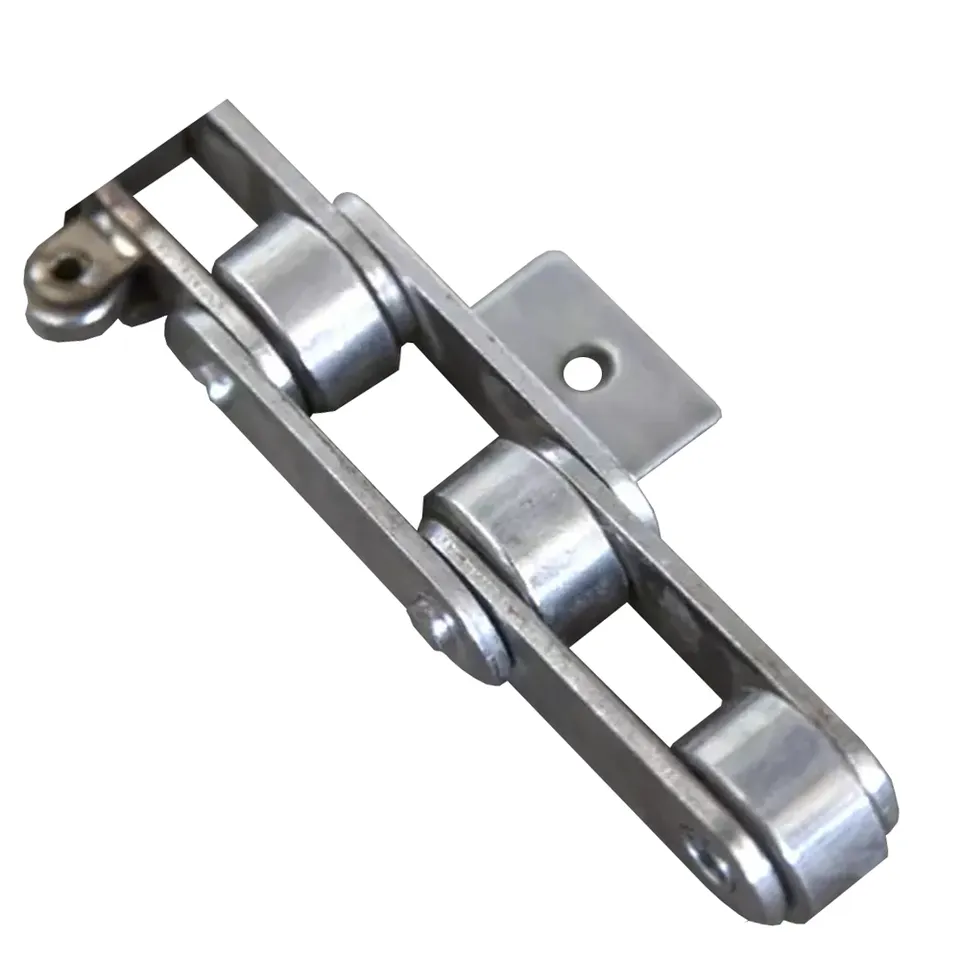 How do mill chains handle wear and tear in continuous operation?
Mill chains are designed to handle wear and tear in continuous operation, making them suitable for various industrial applications. Here's how they effectively manage wear and tear:
1. High-Quality Materials: Mill chains are typically made from high-quality alloy steel or other durable materials, which enhances their resistance to wear and tear.
2. Hardened Components: The components of mill chains, such as pins and bushings, are often hardened to increase their toughness and wear resistance.
3. Precision Manufacturing: Mill chains undergo precise manufacturing processes to ensure consistent quality, reducing the likelihood of premature wear.
4. Lubrication: Proper lubrication is essential to reduce friction and wear between the chain components. Regular lubrication helps to prolong the chain's life and maintain its performance.
5. Proper Tensioning: Maintaining the correct tension in the mill chain is crucial. Proper tensioning ensures smooth operation and minimizes stress on the chain, reducing wear.
6. Protection Against Contaminants: In dusty or dirty environments, mill chains can be equipped with protective covers or seals to prevent abrasive particles from entering the chain, reducing wear.
7. Inspection and Maintenance: Regular inspections and maintenance are essential to identify any signs of wear and address issues promptly. Replacing worn components or adjusting tension as needed can extend the chain's life.
8. Suitable Speed and Load: Ensuring that the mill chain operates within its recommended speed and load limits helps prevent excessive wear and prolong its lifespan.
9. Chain Alignment: Proper alignment of the mill chain and sprockets is crucial to prevent uneven wear and premature failure.
10. Replaceable Components: In many mill chain designs, individual components like pins and bushings are replaceable, allowing for cost-effective maintenance and reducing downtime.
Overall, proper selection, installation, and maintenance of mill chains are essential to ensuring their longevity and reliable performance in continuous operations, reducing downtime and production disruptions.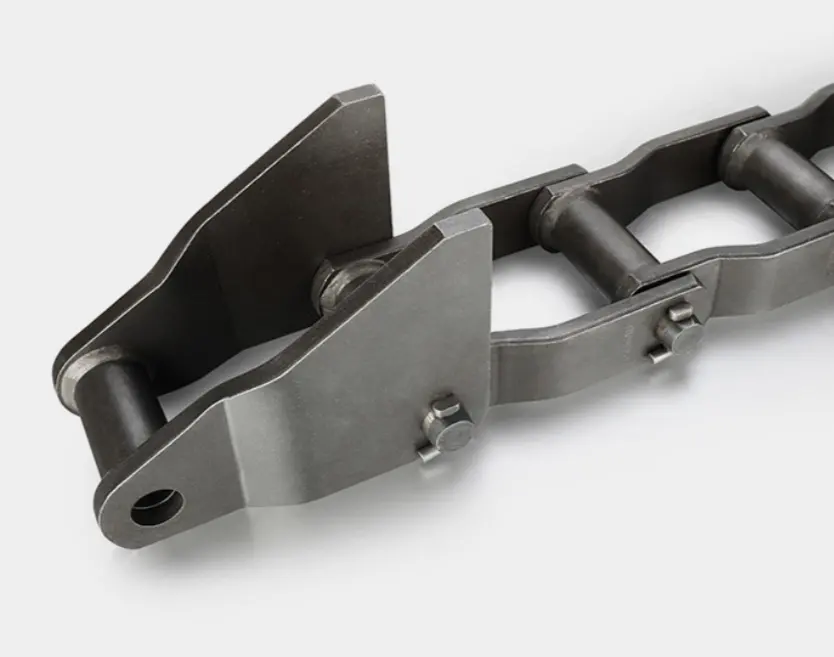 Can mill chains be repaired or must they be completely replaced when damaged?
Whether mill chains can be repaired or need complete replacement depends on the extent and nature of the damage. In some cases, minor issues can be repaired, while severe damage may necessitate a full replacement. Here's a detailed explanation:
1. Repairs:
Minor damage to mill chains, such as localized wear or damage to individual components, can often be repaired. Common repairs may include replacing individual pins, bushings, or rollers that are worn or damaged. Welding or re-machining certain components may also be possible if they can be restored to their original specifications without compromising chain integrity.
2. Replacement:
If the mill chain has significant damage, such as elongated or excessively worn chain links, multiple broken components, or damage to critical structural elements, a full replacement is usually necessary. Chains that are severely worn or elongated beyond their usable limits will no longer function properly and pose a risk of sudden failure.
It's crucial to assess the extent of the damage and consult with qualified professionals or the chain manufacturer to determine the appropriate course of action. In some cases, attempting to repair severely damaged chains can lead to compromised performance and safety hazards.
Regular maintenance, inspections, and prompt replacement of worn components can help extend the service life of mill chains and reduce the likelihood of significant damage that would require complete replacement.
Remember, the safety and performance of the mill chain are paramount, so it's essential to follow the manufacturer's guidelines and best practices when considering repairs or replacements.



editor by CX 2023-08-16